The days are getting longer. Yesterday, 06/22/21 it was 78F at 0500, today at the same time it was 56F, go figure. I checked the weather prediction map, NOAA',s site, a prediction map showed all weather staying west of the Chesapeake Bay and generally speaking following a track North via I-95. Since we had a lunch date with Mary Agnes' sister in-law at noon, outside dining was in order. On this day we would dine at Tall Tales Brewing Company in Parsonsburg, MD.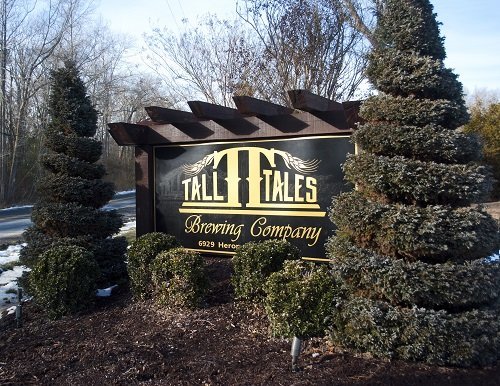 We met Barbara, entered, and were seated undercover on the fringe of outside. All the doors were open, and a delightful breeze was blowing. The windows are floor-to-ceiling fold back doors: ice tea, no sugar for me, A wine for my princess, and a Lager for Barb. We ordered Chicken Salads for the ladies and a Mahi Mahi Taco for me. Unfortunately, when our food arrived, so did the weather, in the form of Rain. Although we were fine as we were undercover, several other tables had to reposition back a bit.
All in all, it was an excellent get together, we caught up on the goings-on of both sides of the family. I call Barb's side of the family, the Polish side. Barb is the Matriarch at this point in time for her side. She beats me in age by three months by the way. My wife, of Irish descent, is the Matriarch on her side of the family. So thus we have, the two sides as I identify them.
As far as weather predictions, they, NOAA in this case, blew it! Don't you love the ten-day predictions you get from various WX sites or the five-day predictions? On this day, we couldn't even get a 3-hour forecast that was worthy. So what the hell are they smoking in those weather shops?
This is what I've come to call a Sami-izem: You know your kid learned to speak outside of the US when she says "Mom look at that! It's like 10 meters tall!"
Life remains good on the Eastern Shore of the Chesapeake Bay. God is good, and thanks to him, so are we. Our chickens continue to give us eggs. Greggory Peck is in Talon Hill. ( Remember Boot Hill?) Our Garden is growing nicely and were using a lot of fresh Parsley at the moment.
So, for this day, these photos and my writing I bid you all Ah plue tahr
Be safe, if you haven't already, get a flu shot and make sure you check on the elderly.