I've written in my Journal every day since 09/14/2014. In 1973 I started with CT State Police and kept a field notebook my entire career. A wise man, States Attorney Arnold Markle once said, Document, Document, Document., if it's not written down, it never happened. That piece of advise validated my testimony on a witness stand many times over.
About Arnold Markle
Going back to that flimsy 2 Subjects college ruled notebook I learned I ate Blueberry Yogurt for breakfast, it was 58f at 0600 and we had a high that day of 71 degrees.
With all that is going on in this day and age, there is much to write about. Be safe, Stay 6 feet apart, not 6 feet under.
In addition to WordPress I write in Medium from time to time and read fellow writers work almost daily.
I share with you Debby Germino's article on Medium
How Note Taking Will Make You Better at Life
A 3 Step Guide to Note-Taking for Disorganized People
Debby GerminoJun 7, 2019 · 8 min read
I wish I had started the habit of note-taking far earlier in my life. It was always something I admired in others but could never pull off myself. I always knew it would make me a better writer but I never realized how much it could serve in every area of my life. It has the potential to improve anything you decide to take notes on.
My mother is a note taker. She notes down recipes, vacation details, home repairs, life events, accomplishments…she even notes the size and cost of her Thanksgiving turkey each year. She can tell you details of vacations she took when she was in college, down to the hotel she stayed at, the bar she went to and the drinks she and her friends ordered.
She tried to get me to start a travel journal when I was a kid and I went on my first plane trip to Orlando, Florida. She gave me a notebook and told me to write a dated entry each day detailing what activities we did. I remember really wanting to be diligent at it and take notes as my mom did. But it wasn't until the plane ride home where I opened that journal up for the first time. As I began to journal each day from memory, my mind got ahead of myself and the task quickly became cumbersome and overwhelming. I noted a few days and quickly abandoned the process in favor of napping.
The key, as my mother had told me, was doing it every day for just a few minutes, rather than saving a whole bunch of days to write all at once.
"Note taking is like cleaning", she said. "The more often you do it, the easier it is do."
The Benefits
But just what makes this cumbersome task such a worthy endeavor? How does it improve your life?
Here are the key benefits that I have derived from note taking.
Help You Learn Better: Your mind retains more information when you write it down because your brain has to evaluate and prioritize the information which engages different parts of the brain aiding in recall later on.
Improves the Quality of Whatever You Note: Because you are paying more attention, your brain is filtering the information, linking and connecting ideas faster. This effectively increases the quality of work.
Relieves Stress: When your mind is racing with a million things to do it can be calming to write them down and know that you have acknowledged each one and they will be there when you get to them later.
Provides a relevant and useful account of whatever you note: Notes are more reliable than memory.
Creates a greater awareness and insight: When you begin to note a particular subject or activity, you naturally pay more attention to it because you know will be writing it down. This leads to more insight and a stronger ability to make connections and correlations.
Though I was unaware of these benefits when I was 8 years old, I still admired my mother's ability to reference meaningful dates, useful household repairs, and various practical life details that would otherwise be lost or forgotten. She was trained as a secretary and one of the last generations to have been taught shorthand. Finding her shorthand notes looked like a strange hybrid of doodling and hieroglyphics. It always baffled me how those strange squiggly shapes could actually make sentences. It was like a secret language and I wanted to be in the know. I asked her to teach it to me but I never had the patience to learn it.
She'd take her shorthand notes from a phone call and then transfer them to a notebook or file them away in an appropriate folder where she could reference them later. Though I envied her organization and useful information she had at her fingertips, I could never seem to implement it into my own life.
Don't Be Intimidated
Over the years, I read about many methods of note taking, hoping to find the magic strategy that would enable me to embrace this process once and for all. Tim Ferriss details his intricate process of note taking and indexing for quick reference on his blog. Author Ryan Holiday has a system of his own that he borrowed from writer Robert Greene. Both of their systems are extremely detailed and quickly induce anxiety when I begin to think about implementing them.
Happiness expert and author Gretchen Rubin, writes about her note-taking process on her blog which is less overwhelming but still cumbersome. I take comfort in Gretchen's admission that,
"while it might seem like a passive, easy task, [but] it's actually very challenging."
It takes a lot of mental energy and concentration to do the type of note -taking that these authors are referring to. When it's part of your job and integral to the work you do every day it certainly makes sense to have elaborate systems in place. But as someone who struggles with organization and orderliness, trying to implement complex note-taking systems is never going to happen, no matter how great I think it would be.
The good news is you can still enjoy the benefits of note taking without having an elaborate system in place. If you are a slightly scattered and cluttered person like me then this process is perfect for you. In fact, there are just three steps to follow.
Start simple.
2. See what you notice.
3. Let it evolve.
Start Simple
First, take one corner of your life that you want to notate. Maybe you want to track your energy levels to see how your workouts affect you or you want to take notes on the books you read so you can remember them better. Just pick one topic for now. This is a commitment so if you try doing too many areas at once, you'll end up dropping it all together because you can't keep up.
I started with daily food journaling. I began this process when I found out I had mercury poisoning and it became necessary for me to track my food intake along with my symptoms. Because this was an unusual diagnosis I felt that I needed to be hyper-vigilant of my symptoms and progress to empower myself with the information I needed to heal. I started simple. I logged what I ate and how I felt after eating.
Once you choose your subject, you'll also need to decide whether you want to be a digital or analog notetaker or a combination of both. I began using pen and paper to write my food journals. I found a simple form that allowed me enough space to write my food and the notes I wanted to take along with it. I was able to keep it with me so I could write my food at each meal. I didn't want to have to search an app for foods or need to have my computer close by whenever I ate so this worked well for me to start. The idea is to make it as convenient as possible so when you think of something you want to note, you have easy access to do it.
See What You Notice
As you begin taking notes, you'll find that there are things you want to note each time or things you continue to write over and over. You'll notice that you're more aware of whatever it is you are logging. Thoughts will come up more often that you want to note down. This is one of the benefits. You'll also start making correlations between things that you hadn't noticed before. This is also a benefit.
It may take some time to notice these things. Be patient. You just want to establish the habit so it's more important that you keep up with the notes than trying to analyze them. I food journaled for many months before I began linking specific foods with my symptoms.
Most of the things I noticed initially, had to do with the actual process of note-taking. I noticed ways I could make the process easier and more effective as I began to make it a habit. This is where the evolution begins.
Let it Evolve
The longer I kept up with the habit, the more I noticed the benefits. My food journaling form evolved quite a bit over the 2 years that I continued it. I went from handwriting my journal to making my own template in Evernote. Yes, I know. I said this was for unorganized, messy people who get overwhelmed with systems and formats. This is the evolution that will be born out of what you notice. You will want to make things easier and more efficient as you figure out what information is most important for you to note. For me, I found that designing a template allowed me to add checkboxes and data points for the specific categories I wanted to keep track of.
But this was after making it a habit.
The evolution is when you find yourself taking notes in other areas of your life. You'll notice the benefits and want to expand your process. I have found Evernote to be a great application for my note taking expansion. It allows me to create notebooks for any subject I want to have notes for. This has been an easy way to keep things organized. I still struggle with not remembering to tag each note which makes it difficult to find things later on. But I am happy that I am learning better and remembering more just from writing my ideas down. My skills aren't up to par with my mom or Tim Ferriss but at least the habit has taken hold and I'm enjoying the process.
If you want to be a better writer, researcher, learner, student, teacher, or just better at life, make note taking a habit. Don't be intimidated by the process. Keep it simple, see what you notice, and let it evolve.
---
Debby Germino is a freelance tv/film editor who enjoys writing about mindfulness, health, and strategies for happier living. She writes a bi-weekly newsletter and is open to comments and suggestions on any of these topics.The Startup
Medium's largest active publication, followed by +622K people. Follow to join our community.
Semper Fi theRooster
We "began" our Spring Break adventure yesterday. Join us each day as we imagine what we would have been doing.
Day 1 & 2: Driving to Genoa, Italy
The kids have done amazing driving these 14hrs. They've barely fought and only whine when they're hungry. We've driven through 3 countries so far. We're about 3/4 of the way there and every minute brings more anticipation.
Day 1 & 2: Driving to Genoa, Italy
The kids have done amazing driving these 14hrs. They've barely fought and only whine when they're hungry. We've driven through 3 countries so far. We're about 3/4 of the way there and every minute brings more anticipation.
Day 3 of our would be Spring Break
We safely made it to Genoa yesterday and the kids continued to be amazing in the car. It's almost as if the trip took seconds instead of hours. This morning we walked around the city and of course ate Gelato and ice cream for lunch (see picture).
We just boarded our cruise ship, found our room and got settled in.
Day 4
Sorry for the little later post, we've been having a blast! Today was a day at sea. The kids loved the the kids club, we have a private lounge/tanning area, and I started reading a new book. Tonight was movie night on board and Dax and Zoe insisted on popcorn. They're loving the never ending drinks and snacks. Mia and Ana opted for a little more swim time rather than a movie. Oh yeah, and the kids think its awesome they can live in their bathing suits. Thankfully it's a gorgeous 70°.+2
Day 5
Today we were in port. Tomorrow I'll catch up on posting pictures and describing the day…super busy and now we're all ready to crash.
Here are a few pictures for you to guess the town we explored today.
Day 5 & 6 recap
Day 5 was Barcelona. We enjoyed walking around the city and eating our way through it. Day 6 was Palma de Mallorca. Definitely a city I want to come back to without kiddos
🙂 we of course found a playground for the kids. Last night part of kids club was about astrology. The kids were taught about the planets and different constellations and then elected to sleep on the deck.
Little of Day 7.
Zoe was the first one up, like always and will probably be the one who is most upset to get off the ship in a couple days. There is food at her every beckon call. Today we do Marseilles.
Day 7…continued
Marseilles was gorgeous. We did two different excursions. One was a poetry reading and another was learning fishing techniques from an experienced local. Kids are loving a cruise and have already asked to go on another one. Tomorrow is our last day of the cruise and will be a day at sea.
Trip Complete
Back home they are, the trip complete, just how long will the playroom stay Neat?
Once again I must say thank you to our Grands and Greats in Brunssum, Netherlands for giving me fodder for my Blog, what wonderful imaginations. I would also like to say thank you USAF Captains Sam & Zed, for all your sacrifices for the USA. Go Navy, Beat Army! It's a family thing.
WE LOVE YOU!
Semper Fi theRooster
Wow is all I can say, these times they are a changing. "Hey, don't get too close." Those words led me to think, it might be a good time to live in a cloistered society, or perhaps on an island in the middle of the Ocean. Son-in-law Jeff had that island experience during the month of February, while working in Koror, in The Republic of Palau at the American Embassy. While checking on the Covid-19 whereabouts yesterday, I learned there was not one case of the disease in Palau.
For the here and now Grannie and the Rooster are practicing self isolation, washing our hands and not touching our face. Daughter Sarah has been getting our necessaries while she's out shopping. Today we received facial tissue, paper towels, green beans, and diced potatoes. A bottle of Cab and Chardonnay from the wine isle capped off the shopping list. Perhaps a toast at dinner time and thank you Lord that we are Corona free.
We visited a short time on the porch with Sarah, well separated mind you, but not for long. A temperature of 43f and blustery winds drove our visitor from the other side of the river away rather quickly. Thank you our middle child.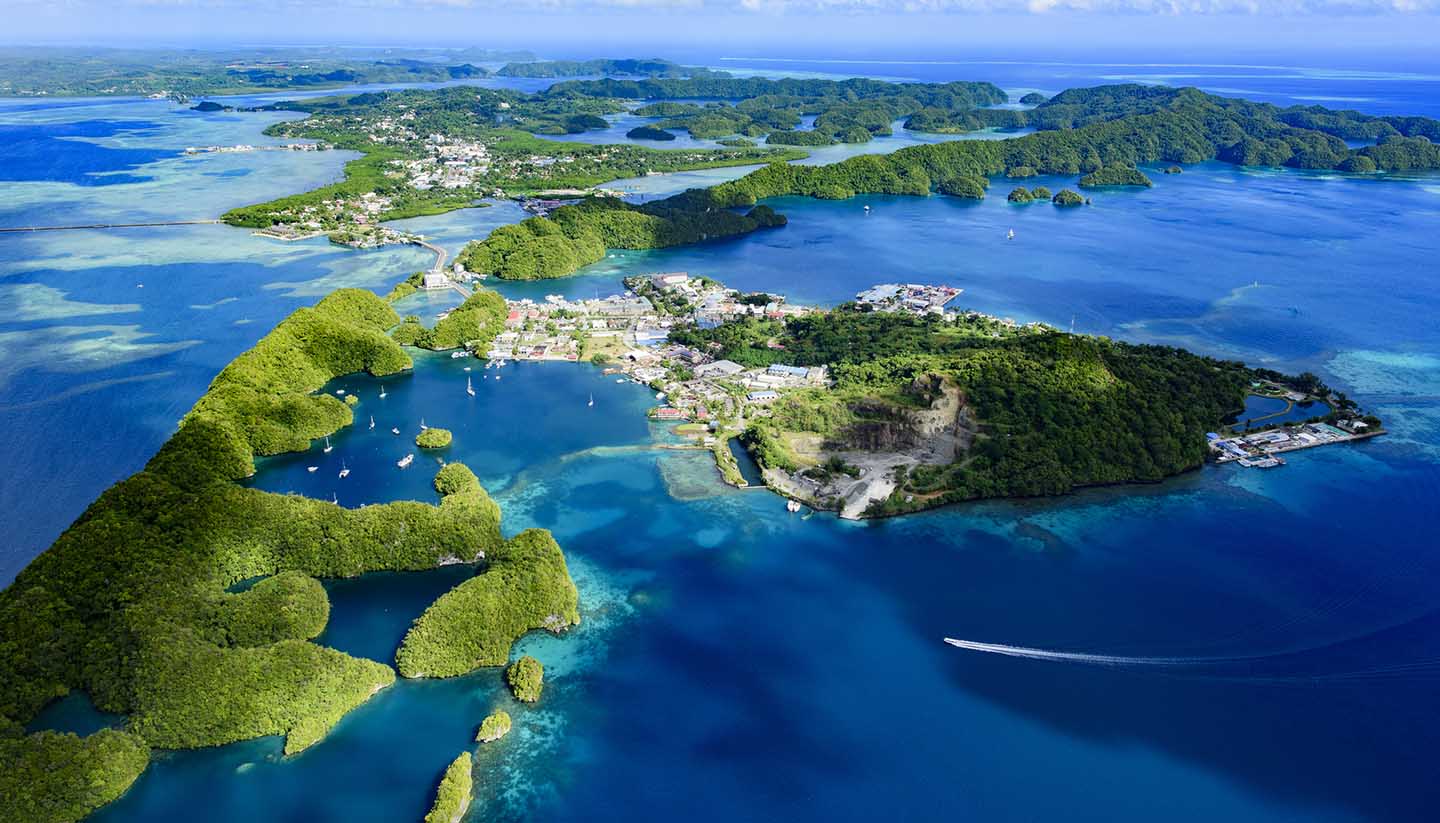 Should you be interested to learn a little about this island nation of Palau, check out the Embassy fact sheet @: https://pw.usembassy.gov/our-relationship/policy-history/
Tristan da Cunha
Courtesy of Wiki, should you want real isolation try, Tristan da Cunha (/ˌtrɪstən də ˈkuːn(j)ə/), colloquially Tristan, is a remote group of volcanic islands in the south Atlantic Ocean which includes Gough Island. It is the most remote inhabited archipelago in the world, lying approximately 1,511 miles (2,432 km) off the coast of Cape Town in South Africa, 1,343 miles (2,161 km) from Saint Helena and 2,166 miles (3,486 km) off the coast of the Falkland Islands.[5][6]
The territory consists of the inhabited island, Tristan da Cunha, which has a diameter of roughly 11 kilometres (6.8 mi) and an area of 98 square kilometres (38 sq mi), and the wildlife reserves of Gough Island and Inaccessible Island and the smaller, uninhabited Nightingale Islands. As of October 2018, the main island has 250 permanent inhabitants who all carry British Overseas Territories citizenship.[3] The other islands are uninhabited, except for the personnel of a weather station on Gough Island.
Tristan da Cunha is a British Overseas Territory with its own constitution.[7] There is no airstrip of any kind on the main island, meaning that the only way of travelling in and out of Tristan is by boat, a six-day trip from South Africa.
Cloistered Men and Women of the Catholic Faith.
Enclosed religious orders of the Christian churches have solemn vows with a strict separation from the affairs of the external world. The term cloistered is synonymous with enclosed. In the Catholic Church enclosure is regulated by the code of canon law, either the Latin code or the Oriental code, and also by subsidiary legislation.[1][2] It is practised with a variety of customs according to the nature and charism of the community in question. (Wiki)
Have you ever thought of the cloistered world of a nun. Could this be another safe venue in our world? https://www.tipsonlifeandlove.com/self-help/going-inside-the-secret-world-of-cloistered-nuns
Life in the Netherlands
Sam, Zed, Mia, Ana, Dax, and Zoe
32 days 🎶into the unknown🎶
Positives – Zoe is potty trained, Dax has learned to ride a bike without training wheels, Zoe has learned how to ride a Strider bike.
Activities – Leprechaun trap, snow globes, virtual playdates, calming bottles, aquariums, bike rides, and invented numerous games on the trampoline (this one has been all Zed, and the kids love it)
Challenges – Still don't know what I'm doing for dinner every night, have given barely any thought to my Master's assignments, learning how my kids learn best, coordinating Zed and my work schedules, making sure we don't miss school assignments for Mia and Ana, entertaining 4 very active kids who require social interaction from people their age
Grandson David in NY, NY
Stuck in a 4th floor walk-up in Lower Manhattan. The Rooster shall expond on this isolated lad in the next post. Hang in there David, down in lower Manhattan.
Connecticut Entertainment at son Matt's house.
For some reason or an other when I saw the flower, I reflected back to 1967 and a song from that era sung by Scott McKenzie: https://youtu.be/bch1_Ep5M1s
How many of you readers were around with this 24 year old Marine at that time? "Welcome Home," to all who know the meaning!
Scott left this world back in 2012 at the age of 73.