Home » Posts tagged 'the Netherlands'
Tag Archives:
the Netherlands
So, am I in one, I ask. I finally got plants and seeds into my Pot Garden, that was a month ago. Many thanks to my son-in-law Greg for the pots and potting soil. Gotta give credits where credits are do. I may need soil again next year.
I've not written a post for over a month. We've been in quarantine since 19 March. I've only gained 5 pounds. We have not contracted any virus. Well, there's something to be thankful for. "O Lord that lends me life, lend me a heart replete with thankfulness." (William Shakespeare)
Stephen King had a great saying – "Don't let the sun go down without saying thank you to someone, and without admitting to yourself that absolutely no one gets this far alone." Seventy Seven years on this earth, thank you, thank you, thank you, I say!
We have a grandson in NY City, young, single, works for Viacom and has been by himself in a 600 square foot, 4'th story walk up eating Deli food since this all started. I'm guessing he spends his spare time cleaning. Never have I seen a single, twenty something guy, as neat as this. David, you're amazing!
Granddaughter Samantha, Capt. USAF, stationed in Germany, living in the Netherlands says: COVID-19 has changed a lot, but it was sure nice to have half occupancy in the amusement park near our house. Valkenier is a very family oriented park and all kids are now old enough to ride. Mia counts as an adult and is able to partner up with Ana until she grows a few more centimeters.
Daughter Kathryn and son in-law Jeff are in the process of moving back to this side of the river. If all goes well with the VA and Bank they will be one mile away from us. Settlement is supposed to take place on 7/8/20.
Jeff has been working from home during this Pandemic thing. Kathryn has remained quite busy coordinating Population Health issues for PRMC. Jeff was out with Abby and Antwaine fishing recently and displays a nice Cat fish below.
Son Matt and daughter in-law Beth were to go to England to celebrate their 25'th wedding Anniversary. No, they didn't make it, but they did celebrate.
Daughter Sarah and husband Greg took a few days off and ventured to the family Ski Lodge at Elk Mountain, Pennsylvania. Below is their wake-up and sunset views the past two days.
As for the Rooster and wife, we're still crowing and cackling. We're a bit more confined, aren't we all. We did get out to dine at a local Brew Pub,Evolution Craft Brewing's, Public house. It was outside dining at the time, but most enjoyable. The Mrs had the Johnny Burger and the Rooster had the Fish Tacos. All was consumed and washed down with a glass of Chardonnay for the Mrs and a Lot 3 for the Rooster. The good Lord graced us with blue skys and a gentle Eatern Shore Breeze. It doesn.t get much better than that. https://www.evolutioncraftbrewing.com/
Wow is all I can say, these times they are a changing. "Hey, don't get too close." Those words led me to think, it might be a good time to live in a cloistered society, or perhaps on an island in the middle of the Ocean. Son-in-law Jeff had that island experience during the month of February, while working in Koror, in The Republic of Palau at the American Embassy. While checking on the Covid-19 whereabouts yesterday, I learned there was not one case of the disease in Palau.
For the here and now Grannie and the Rooster are practicing self isolation, washing our hands and not touching our face. Daughter Sarah has been getting our necessaries while she's out shopping. Today we received facial tissue, paper towels, green beans, and diced potatoes. A bottle of Cab and Chardonnay from the wine isle capped off the shopping list. Perhaps a toast at dinner time and thank you Lord that we are Corona free.
We visited a short time on the porch with Sarah, well separated mind you, but not for long. A temperature of 43f and blustery winds drove our visitor from the other side of the river away rather quickly. Thank you our middle child.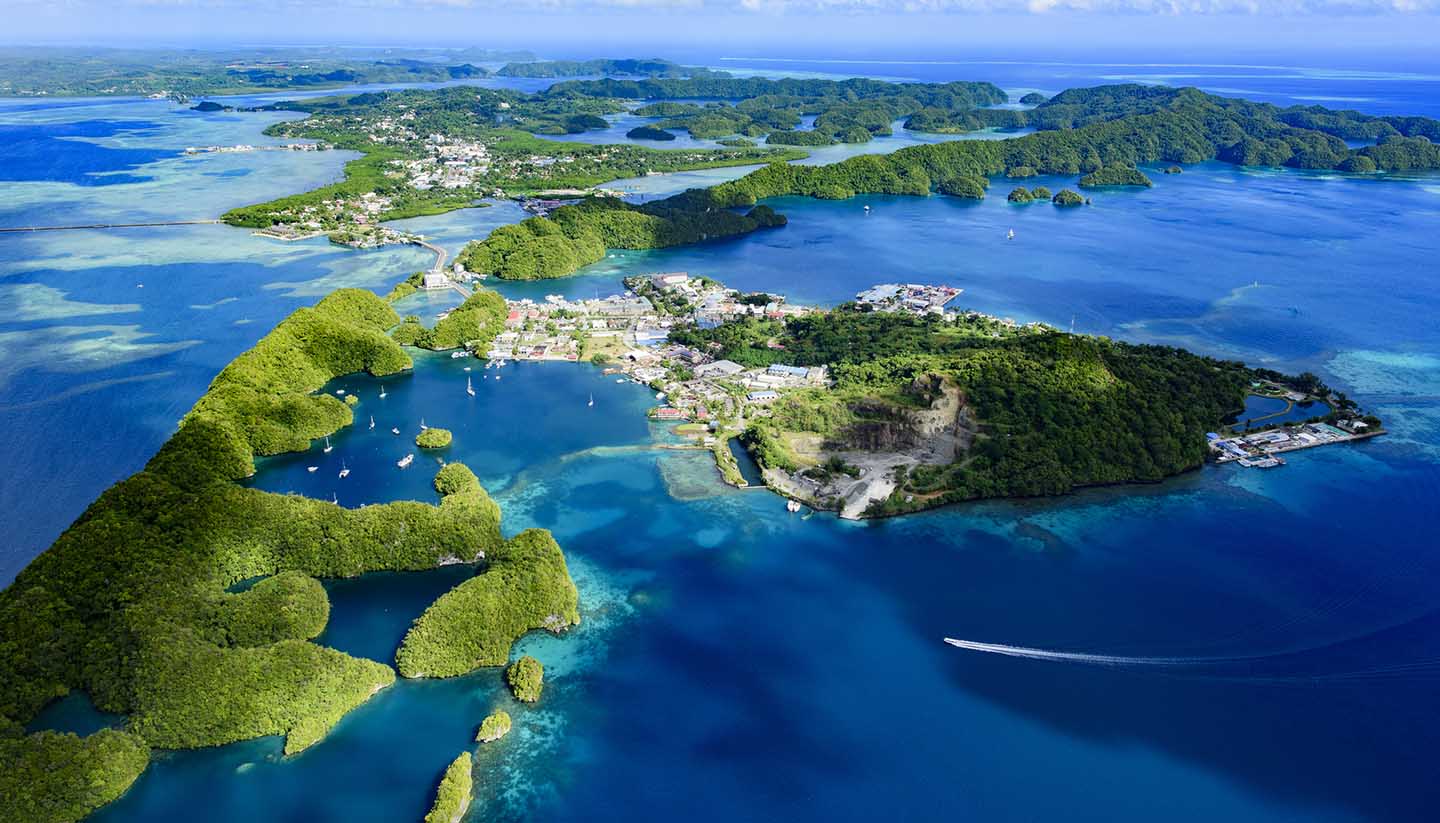 Should you be interested to learn a little about this island nation of Palau, check out the Embassy fact sheet @: https://pw.usembassy.gov/our-relationship/policy-history/
Tristan da Cunha
Courtesy of Wiki, should you want real isolation try, Tristan da Cunha (/ˌtrɪstən də ˈkuːn(j)ə/), colloquially Tristan, is a remote group of volcanic islands in the south Atlantic Ocean which includes Gough Island. It is the most remote inhabited archipelago in the world, lying approximately 1,511 miles (2,432 km) off the coast of Cape Town in South Africa, 1,343 miles (2,161 km) from Saint Helena and 2,166 miles (3,486 km) off the coast of the Falkland Islands.[5][6]
The territory consists of the inhabited island, Tristan da Cunha, which has a diameter of roughly 11 kilometres (6.8 mi) and an area of 98 square kilometres (38 sq mi), and the wildlife reserves of Gough Island and Inaccessible Island and the smaller, uninhabited Nightingale Islands. As of October 2018, the main island has 250 permanent inhabitants who all carry British Overseas Territories citizenship.[3] The other islands are uninhabited, except for the personnel of a weather station on Gough Island.
Tristan da Cunha is a British Overseas Territory with its own constitution.[7] There is no airstrip of any kind on the main island, meaning that the only way of travelling in and out of Tristan is by boat, a six-day trip from South Africa.
Cloistered Men and Women of the Catholic Faith.
Enclosed religious orders of the Christian churches have solemn vows with a strict separation from the affairs of the external world. The term cloistered is synonymous with enclosed. In the Catholic Church enclosure is regulated by the code of canon law, either the Latin code or the Oriental code, and also by subsidiary legislation.[1][2] It is practised with a variety of customs according to the nature and charism of the community in question. (Wiki)
Have you ever thought of the cloistered world of a nun. Could this be another safe venue in our world? https://www.tipsonlifeandlove.com/self-help/going-inside-the-secret-world-of-cloistered-nuns
Life in the Netherlands
Sam, Zed, Mia, Ana, Dax, and Zoe
32 days 🎶into the unknown🎶
Positives – Zoe is potty trained, Dax has learned to ride a bike without training wheels, Zoe has learned how to ride a Strider bike.
Activities – Leprechaun trap, snow globes, virtual playdates, calming bottles, aquariums, bike rides, and invented numerous games on the trampoline (this one has been all Zed, and the kids love it)
Challenges – Still don't know what I'm doing for dinner every night, have given barely any thought to my Master's assignments, learning how my kids learn best, coordinating Zed and my work schedules, making sure we don't miss school assignments for Mia and Ana, entertaining 4 very active kids who require social interaction from people their age
Grandson David in NY, NY
Stuck in a 4th floor walk-up in Lower Manhattan. The Rooster shall expond on this isolated lad in the next post. Hang in there David, down in lower Manhattan.
Connecticut Entertainment at son Matt's house.
For some reason or an other when I saw the flower, I reflected back to 1967 and a song from that era sung by Scott McKenzie: https://youtu.be/bch1_Ep5M1s
How many of you readers were around with this 24 year old Marine at that time? "Welcome Home," to all who know the meaning!
Scott left this world back in 2012 at the age of 73.
For the past five months, I've worked for a local Nursery. I spend two, sometimes three days a week as a driver and companion to one of the past owners. For the sake of this blog, I'll call him HL. This man is the kindest and most pleasant man to spend a day with. I must also mention, he's quite witty and shares a lot of history with me.
This is not my first rodeo doing this type of thing. Back in the late nineties, I was a driver and aide to the late James Brady and his wife Sarah. Jim was the Press Secretary to President Reagan at the time of the assassination attempt on March 30, 1981. I've written a blog in the past of one little tidbit during that time. Jim was another one of those people with a unique wit.
HL's son is now in charge of the nursery business. In the early twenties HL's father immigrated to America from the Netherlands as a Bulb salesman. He got this whole nursery thing started. The nursery as it's known today started in 1962 with the first propagation in one unheated, deep cold frame.
HL loves traveling about the Delmarva Peninsula, looking at land, specifically farmland, as well as historic homes and buildings. We've also gone to the Pokomoke Discovery Center, where we learned about River Otters and the Harriett Tubman Underground Railroad Historical Site.


Moving On
A past Thursday found us at a long time employee's Retirement and Birthday Party. The Company electrician was hanging up his non-conductive Electrical Plyers for a well-deserved cruise in the Carribean with his wife of 64 years, Judy. Kern was also celebrating his 84'th birthday that day and ending his 48'th year at the nursery.
So this old writer is still staying busy, gathering material, as he moves around the Eastern Shore of Maryland, Delaware, and Virginia. Oh, and did I mention, HL buys lunch each day, there is a story in that process at most every meal. I'm thinking I'll have to start a Gastro info blog from time to time. Have a great Sunday everyone.
theRooster