Home » Posts tagged 'The Rooster'
Tag Archives:
The Rooster
Just today, It's Monday the first day in February in the year 2021, I read a fellow blogger's Blog. She started her blog by writing the following. My blogger friends, do you find you often blog in your mind, but never quite get it to the keyboard state?
Well, let me tell you, I do this all the time. Earlier today my wife finished a quilt and I had the task of taking that quilt to the women who will put it on a Long Arm and finish it for her. We have no Long Arm but we do have a Quilting frame. The Mrs. has made many a quilt on that frame over the years.
I recently saw a Bernina Long Arm machine listed for $20,499.00. Our quilting frame purchased over 20 years ago was $360.00.
Rambling thoughts herein lie. Just wanted to impart a bit of the wonderful work my wife does and the machines that can finish those works of art off.
So, I'm driving on the Bypass with this quilt, it's cold outside, more snow on the way. What, you had snow you ask. Yes, here on the Eastern Shore of Maryland we got several inches yesterday. The first measurable snow in 706 days. It is reported that we shall get more tonight. I should write about that I thought. I'll start with 'HEADLINE, NO SNOW IN 706 DAYS." That will attract an audience I think to myself.
I'm listening to the radio, Oldies channel, https://kool1043.com if your ever traveling in or around Salisbury, MD and enjoy the oldies. They give you little tidbits such as: This Day in Music History – 1962 – Warner Bros. Records signed Peter, Paul & Mary. 1966 – The Bobby Fuller Four's "I Fought The Law" was released. 1969 – The "Glen Campbell Goodtime Hour" debuted on CBS-TV. 1972 – David Bowie performed as "Ziggy Stardust" for the first time. 1972 – Smokey Robinson left The Miracles. 1979 – Emerson, Lake […] etc. I'm sure you get the point so I'll get back to my point. I was putting out a Blog in my head.
On November 9, 1965 the United States had a Black Out affecting all of the state of New York and parts of seven neighboring states. chaos prevailed, 800,000 people were stranded in the NY subways. Thousands more were stuck in elevators and trains. Just setting the scene here folks.
This writer was a young Marine Sergeant assigned at the time to USNAD Earle, NJ, a Naval ammunition Depot. https://en.wikipedia.org/wiki/Naval_Weapons_Station_Earle
I'm in the Guard Bunker at that facility, I have fellow Marines under my command out on posts, some fixed, some mobile, some in vehicles on roaming patrols. One fixed post on that November evening held a Marine in a Tower overlooking all the bunkers under our watchful eyes that held some powerful ordinance.
I have the radio on, "You've got that Loving Feeling," by the Righteous Brothers is playing and the young Marine in that tower radio's down to me, "Hey Sarge, NY City has disappeared. Yep, here I am driving the bypass 02/01/21 and I'm back in the moment. It was then that I said, I've got to write that in a Blog. Thanks Chrissie, you've inspired me.
Then, at precisely 5:21 p.m. Eastern Standard Time, everything went black.
It was Nov. 9, 1965. And suddenly, from Pennsylvania to southern Canada, through parts of New York, New Jersey, Connecticut, Rhode Island and northern New England, right up into Ontario, more than 30 million North Americans were without power.
It was the Great Northeast Blackout.
Many people were swept up with the fear that the Russians had attacked and the U.S. was in the throes of World War III. Others felt it was a realistic version of the classic "War of the Worlds," with alien beings to blame for the widespread power outage upon their arrival on earth.
The hubbub was caused, ironically enough, by a faulty relay estimated by one source as "probably a two-dollar piece of machinery" at the mammoth Niagara-Mohawk Power Plant in upstate New York. Such a minute wrinkle made it sound all the more like H.G. Wells' fictional "War," an example of the tiniest of things creating the biggest nuisance.
In New York City, some 800,000 people were stranded in underground subways, while thousands more were trapped for the duration in elevators. Johnny Carson, in his "Tonight Show" monologue, quipped that in nine months, all over the East Coast, mothers would be giving birth and wistfully naming their sons Otis.
For the record, during the week of Aug. 9-15 of 1966 – nine months later – a total of 14 births were registered at Henry Heywood Memorial Hospital.

While many areas – including New York City – were without power for several days, the Greater Gardner area experienced a grand total of two hours and 57 minutes in the dark.

As the blackout hit, emergency generators were pressed into action and continued well past the hour when all power was restored to the area. As the lights went out, on came the candles, kerosene lamps and flashlights.

The very next day would be the 190'th Birthday of the Marine Corps.
https://www.marines.com/about-the-marine-corps/who-are-the-marines/history.html
Blogging is a great way to pass time during this the Covid Pandemic, there's plenty of space between me and my readers. Now I've written that Blog I thought about and I've shared with you a moment in time during the life of The Rooster. Be safe my friends. Oh yes, thanks Chrissie for giving me the impetus to write this. Fall softly, save those knees. It only took me 11 more days to get this out. By the way, when we awoke this morning, 4 inches of snow.
SEMPER FI
Recently while sitting at our dining area table, my wife and I were reminiscing about our years of growing up. As you get older, you tend to reflect back a lot to days gone by. I call them: Do you remember moments. We are both in our 70s and have a lot of years we can reflect on.
To set the stage a bit, my parents were married during the early days of WW 2, I appeared shortly there after. By 1946 they had separated. Fortunately for me, they were both from the same town on the Jersey side of Philadelphia. Ferry boats were still in use back then, transporting folks over the Delaware River. I would get to see my father every week as well as my fraternal grandparents. There were not a lot of large gatherings at their dinner table. The table was in the kitchen up against a wall and made of metal. Two meals each week never varied. Friday nights was always Oyster Stew or fish, (Yuk.) Saturday meals were always Hot Dogs and Baked Beans, (Toot-Toot.)
My parents were young when married. When the war started, my father was already in the Army. He spent time in the Philippines, and I'm thinking once he came home, the glowing flame of a youthful romance was no longer there. Neither parent ever spoke of negatives about the other. I was fortunate that I was equally shared and held accountable for my actions by both, neither parent would ever put down the other.
My mother and I would share a second-floor apartment in the home of my maternal Great-grandparents. My father would move back into the same bedroom he was raised in with his parents. We were separated by railroad tracks and less than a mile. I would spend a lot of time at both homes. Also, one block away was my maternal grandparents and an aunt. I was loved, spoiled, and watched over by caring relatives.
My wife grew up less than an hour away in Wilmington, Delaware, 36 miles as the crow flies. She was #4 of 5 children whose parents stayed together forever. She had three older brothers and a younger sister. Most of her family's relatives were in NE Pennsylvania; the family would spend a lot of time visiting that neck of the woods. In her life also, the Dining Room Table would be the gathering place in Wilmington as well as Freeland, PA. Neighbors would constantly drop in at the Wilmington location. My wife remembers one family in particular that timed their visit at dinner time, quite frequently in fact. Not wanting to be rude, they were always invited to stay, and they did. Yes sir E. Bob, "back in the day," I like to say.
There were not a whole lot of electronic diversions back in the late 40s, early 50s. TV was just getting going and we didn't have one. I do remember going next door to see Howdy Doody at 5:00 pm. That show came on the air in 1947 and ran until 1960. The folks who allowed me to watch the show would ultimately be the parents of my step-father when my mother remarried. On occasion, I would carry my dinner over with me and watch the show at the dining room table. Looking back, this was a strange place to have a TV by today's standards. I might add that this home was a strict Methodist facility. Once my mother married their son, Methodist standards took hold. No card playing or sports or rowdiness on Sundays, ever.
Here's a look back at Granny W's old-time dining table . This was the table at my maternal grandmother's home. This home was a Lutheran home. That dining room table would host holiday meals for many years as well as other celebratory events. I can remember having to sit around and listen to whatever it was old people talked about back then. I vividly recall the Truman – Dewey presidential race being discussed. That was November 3,1948, and I was not yet six years of age. Truman won in an upset, by the way. All the newspapers reported Dewey the winner. Yep folks there was even fake news at the time. Many a card game, money on the table, cigar smoke in the air was the norm during a lot of get gatherings.
That Granny "W" could cook, and the aroma of the evening meal would hit you in the face the minute you walked into the house. She had a big part in raising me. Her dining room table was quite large. It had substantial sculpted legs with Gargoyles or something similer on them. Over the table was a chandelier encircled with gold-threaded fringe. Our children still remember being scolded for flicking that fringe. So I'm thinking, does that mean children were always on the fringe while the adults conversed?
The atmosphere at this table was much more jovial than the Methodist table. Many Aunts and Uncles would be in attendance. My grandmother would always have some Mogen David wine in the cupboard. For the men, it was Schmidt's of Philadelphia beer. What a contrast between the two tables. I'm thinking about the difference between Lutherans and Methodists. I'm sure that's politically incorrect in this day and age. I'll call this the happy table and the other the stuffy table.
I would spend many hours at this table listening, trying to picture places and events that were talked about. When I was sent off to bed, I would listen to more stories at the keyhole in the door. Often talk would center around my great-grandfather, and the time he traveled with a Wild West show in the early 1900s. He was a Gun-Smith and kept the show's weapons functioning. I could really close my eyes and place myself in those days of old. High-O-Siver, away! My grandmothers brother was often in attendance and would tell stories about his life as an Engineer on the Pennsylvania Railroad. I often would dream of riding the rails in the Caboose.
Yes, back in the day there were many things other than electronics to keep a boys mind imagining. I sure did like playing Cowboys and Indians. Thanks to that dining room table, I could place myself in the moment.
Semper Fi theRooster
The Nursing Notes for Shoo-Fly Pie
After following the recipe to a "T", this is our final written word.
Line 2 pie pans with pie crust
Make Crumbs
3 cups of flour, 1 cup of Brown Sugar, (may use white) a generous 1/2 cups of shortening ( I split 1/2 Lard – 1/2 Butter) Mix with fingers till it resembles fine crumbs. Reserve 1 cup of crumbs to put on top of pie.
2. To the remaining crumbs add one teaspoon of cinnamon and one teaspoon of nutmeg.
3. Dissolve 1/2 teaspoon of Baking Soda in 1/2 teaspoon of Vinegar.
4. Mix together 1 cup of Dark Molasses with 1 cup of boiling water, add dissolved Baking Soda and Vinegar to Molasses mixture.
5. Add all to crumb mix, mix well, pour batter into lined pie pans.
6. Sprinkle the reserved crumbs evenly over the two pies.
7. Bake in 350 deg oven 30-45 minute until tooth pick comes out clear.
Let cool, eat and enjoy!
Semper Fi
the Rooster
Below is a normal Thanksgiving Baking Tabel at the home of the Rooster. With daughter Kathryn supplying the venue, our normal seating chart of 25-53 names will not be reached this year.
Our new peeps arrived on October 20'th, 13 girls and a boy. At this point we have not a clue, which one is the boy, who will be named Gregory Peck? I had that contest back in September, if you recall. Hard to believe I've been this tardy since my last Blog Post.
These are a few of the chicks at four weeks of age in their new surroundings. We got a mixed batch of breeds this time so we must wait a bit yet to really know what we got. I'm guessing this will be our 6th flock over the past 17 years. Some years back we lost an entire flock due to the N1A1 Virus. Now we must worry about keeping this flock's keepers healthy.
Who said, " Wear your MASK?"
Over the years we have obtained our birds through a variety of sources. Several neighbors have provided a few from time to time, due to predatory birds and animals feasting. Eight birds at one time went to the larder of a local fox, on the same evening nonetheless. Busy little bugger he was, on that night. Our most recent loss was to a Bald Eagle several months ago. We are surrounded by 50 acres of farm land and allow are birds to free range once reaching adulthood. A good Rooster protects his flock quite well. Something circling overhead, crowing prevails and the girls are led under the closes tree. Knowing who provides the feed and snacks, we are like the Pied Piper of Hamelin and they follow us everywhere.
When we purchase from a commercial grower we will use Murray McMurry in Iowa and Meyer in Ohio. We have never been disappointed in either source. It's a great Hobby and you can not beat a free range egg. This batch came from Meyer in Polk, OH. They were born early of the 19'th, put on a plane in Cleveland and arrived overnight in Baltimore. Somehow, by 1345 hrs, 1:45 PM for those who don't know the children arrived at our local Post Office in Salisbury, Md. Who says the Post Office is slow? For those who wish to learn more, https://www.backyardchickens.com/ is a great site.
Be safe one and all.
So, am I in one, I ask. I finally got plants and seeds into my Pot Garden, that was a month ago. Many thanks to my son-in-law Greg for the pots and potting soil. Gotta give credits where credits are do. I may need soil again next year.
I've not written a post for over a month. We've been in quarantine since 19 March. I've only gained 5 pounds. We have not contracted any virus. Well, there's something to be thankful for. "O Lord that lends me life, lend me a heart replete with thankfulness." (William Shakespeare)
Stephen King had a great saying – "Don't let the sun go down without saying thank you to someone, and without admitting to yourself that absolutely no one gets this far alone." Seventy Seven years on this earth, thank you, thank you, thank you, I say!
We have a grandson in NY City, young, single, works for Viacom and has been by himself in a 600 square foot, 4'th story walk up eating Deli food since this all started. I'm guessing he spends his spare time cleaning. Never have I seen a single, twenty something guy, as neat as this. David, you're amazing!
Granddaughter Samantha, Capt. USAF, stationed in Germany, living in the Netherlands says: COVID-19 has changed a lot, but it was sure nice to have half occupancy in the amusement park near our house. Valkenier is a very family oriented park and all kids are now old enough to ride. Mia counts as an adult and is able to partner up with Ana until she grows a few more centimeters.
Daughter Kathryn and son in-law Jeff are in the process of moving back to this side of the river. If all goes well with the VA and Bank they will be one mile away from us. Settlement is supposed to take place on 7/8/20.
Jeff has been working from home during this Pandemic thing. Kathryn has remained quite busy coordinating Population Health issues for PRMC. Jeff was out with Abby and Antwaine fishing recently and displays a nice Cat fish below.
Son Matt and daughter in-law Beth were to go to England to celebrate their 25'th wedding Anniversary. No, they didn't make it, but they did celebrate.
Daughter Sarah and husband Greg took a few days off and ventured to the family Ski Lodge at Elk Mountain, Pennsylvania. Below is their wake-up and sunset views the past two days.
As for the Rooster and wife, we're still crowing and cackling. We're a bit more confined, aren't we all. We did get out to dine at a local Brew Pub,Evolution Craft Brewing's, Public house. It was outside dining at the time, but most enjoyable. The Mrs had the Johnny Burger and the Rooster had the Fish Tacos. All was consumed and washed down with a glass of Chardonnay for the Mrs and a Lot 3 for the Rooster. The good Lord graced us with blue skys and a gentle Eatern Shore Breeze. It doesn.t get much better than that. https://www.evolutioncraftbrewing.com/
Wow is all I can say, these times they are a changing. "Hey, don't get too close." Those words led me to think, it might be a good time to live in a cloistered society, or perhaps on an island in the middle of the Ocean. Son-in-law Jeff had that island experience during the month of February, while working in Koror, in The Republic of Palau at the American Embassy. While checking on the Covid-19 whereabouts yesterday, I learned there was not one case of the disease in Palau.
For the here and now Grannie and the Rooster are practicing self isolation, washing our hands and not touching our face. Daughter Sarah has been getting our necessaries while she's out shopping. Today we received facial tissue, paper towels, green beans, and diced potatoes. A bottle of Cab and Chardonnay from the wine isle capped off the shopping list. Perhaps a toast at dinner time and thank you Lord that we are Corona free.
We visited a short time on the porch with Sarah, well separated mind you, but not for long. A temperature of 43f and blustery winds drove our visitor from the other side of the river away rather quickly. Thank you our middle child.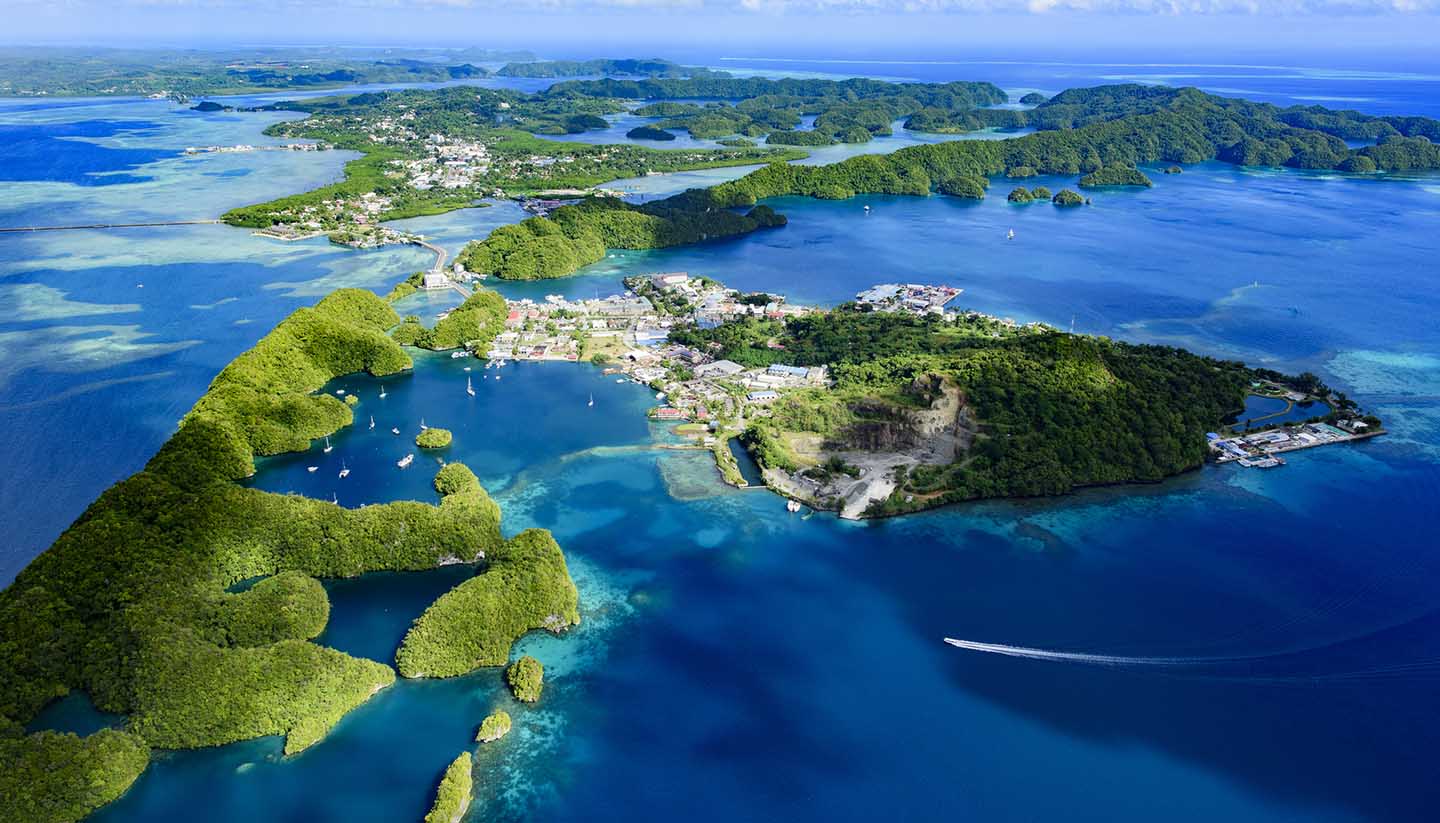 Should you be interested to learn a little about this island nation of Palau, check out the Embassy fact sheet @: https://pw.usembassy.gov/our-relationship/policy-history/
Tristan da Cunha
Courtesy of Wiki, should you want real isolation try, Tristan da Cunha (/ˌtrɪstən də ˈkuːn(j)ə/), colloquially Tristan, is a remote group of volcanic islands in the south Atlantic Ocean which includes Gough Island. It is the most remote inhabited archipelago in the world, lying approximately 1,511 miles (2,432 km) off the coast of Cape Town in South Africa, 1,343 miles (2,161 km) from Saint Helena and 2,166 miles (3,486 km) off the coast of the Falkland Islands.[5][6]
The territory consists of the inhabited island, Tristan da Cunha, which has a diameter of roughly 11 kilometres (6.8 mi) and an area of 98 square kilometres (38 sq mi), and the wildlife reserves of Gough Island and Inaccessible Island and the smaller, uninhabited Nightingale Islands. As of October 2018, the main island has 250 permanent inhabitants who all carry British Overseas Territories citizenship.[3] The other islands are uninhabited, except for the personnel of a weather station on Gough Island.
Tristan da Cunha is a British Overseas Territory with its own constitution.[7] There is no airstrip of any kind on the main island, meaning that the only way of travelling in and out of Tristan is by boat, a six-day trip from South Africa.
Cloistered Men and Women of the Catholic Faith.
Enclosed religious orders of the Christian churches have solemn vows with a strict separation from the affairs of the external world. The term cloistered is synonymous with enclosed. In the Catholic Church enclosure is regulated by the code of canon law, either the Latin code or the Oriental code, and also by subsidiary legislation.[1][2] It is practised with a variety of customs according to the nature and charism of the community in question. (Wiki)
Have you ever thought of the cloistered world of a nun. Could this be another safe venue in our world? https://www.tipsonlifeandlove.com/self-help/going-inside-the-secret-world-of-cloistered-nuns
Life in the Netherlands
Sam, Zed, Mia, Ana, Dax, and Zoe
32 days 🎶into the unknown🎶
Positives – Zoe is potty trained, Dax has learned to ride a bike without training wheels, Zoe has learned how to ride a Strider bike.
Activities – Leprechaun trap, snow globes, virtual playdates, calming bottles, aquariums, bike rides, and invented numerous games on the trampoline (this one has been all Zed, and the kids love it)
Challenges – Still don't know what I'm doing for dinner every night, have given barely any thought to my Master's assignments, learning how my kids learn best, coordinating Zed and my work schedules, making sure we don't miss school assignments for Mia and Ana, entertaining 4 very active kids who require social interaction from people their age
Grandson David in NY, NY
Stuck in a 4th floor walk-up in Lower Manhattan. The Rooster shall expond on this isolated lad in the next post. Hang in there David, down in lower Manhattan.
Connecticut Entertainment at son Matt's house.
For some reason or an other when I saw the flower, I reflected back to 1967 and a song from that era sung by Scott McKenzie: https://youtu.be/bch1_Ep5M1s
How many of you readers were around with this 24 year old Marine at that time? "Welcome Home," to all who know the meaning!
Scott left this world back in 2012 at the age of 73.
On this absolutely gorgeous day on Delmarva, I find my Shotgun passenger walking about his immaculate manicured lawn with his Grip 'n Grab picking up Pine Shats and Pinecones that lie upon the ground. The Loblolly Pine has a habit of littering after a few windy days.
"Good morning Harrison." I get a greeting in return, and my Monday companion returns to his present task. There appears to be no interest in ending this task. Harrison often becomes overly focused on a job or desire to accomplish the mission.
We chit chat about his morning trip to Physical Therapy at the M.A.C. center, where we might go today, or anything else he might wish to share. Nothing, just more pick-up-sticks with the Grab 'n Go. Where will this day take us, I wonder.
With the 5-gallon nursery planter pot in one hand, the Grab 'n go in the other, this man has a choreographed rhythm to his work. Slowly he makes his way towards the driveway and the P/U truck that will hall his days catch away to the dumpster at the nursery, where we first head each day on a trash rum.
Harrison's wife, Sylvia, stands at the side door, and she mentions she's got to get going and has things to do. "what did she say?" He asks. Yes, my friends, there are hearing issues here. The three of us have the same infliction, and this brings about some comical situations from time to time.
We gather the trash for the local dumpster, get a bottle of water each, hydration is essential, you know. Did you know we should each be drinking eight (8) glasses of water each day? Web MD has an easy to understand this concept at https://www.webmd.com/diet/how-much-water-to-drink#1-2
On this day, we head East to Georgetown Delaware, former V.P. Joe Biden's home state. I must drop off my Tax info to the accountant. Georgetown has a neat tradition after an election year. There's a great newspaper article on this if you care to read it.
Would it not be wonderful if our Congressional representatives in our nation's capital could do this.
After our stop in Georgetown, we head toward Lewes, DE. Lewes is part of the round trip Delaware Bay, Cape May – Lewes Ferry. We grab some lunch at the local Cracker Barrel. What did Harrison eat, you might ask. Chicken and Dumplings with a side of Mac & Cheese. The chauffeur on this day had two Pork Chops, and sides of green beans, and Collared Greens. I had two of the greens. Why I got two I have no idea, I ate them both, however.
For those of you with no clue what Greens are, here are two sites for you, one is a recipe, the other healthy eating attributes. Greens are a historically Southern dish.
We would pass many large fields on this day, and my companion was in his glory. The fact that the sun shone brightly and the temperature reached 68f, 20C for those in the rest of the world. Will we ever join the rest of the world
We closed this day riding along the beach in Lewes with its condos and beach rentals on the bay. On our way out of the area, I spied a Jerky Store, the first I've ever seen. I'm a mostly a Keto follower, and Jerky is a great treat, of course I had to stop. So many choices, so little time. If you like Jerky, check out the web site for a Jerky sore near you. A new store opens in Ocean City, MD this summer.
I'm asked from time to time about the two Roosters that greet you at the top of the page. They are both ours, Amos is the Brown and Andy the white. They are gentle giants, protective of their five ladies and keep a vigil constantly for the ever dangerous Retailed Chicken-Hawk.
theRooster
Where in the world is Jeff Berthiaume.
We are hoping he may be on his way home. With the rapidly growing Corona virus and Pandemic fears, we wonder, will he arrive home on the date scheduled. Jeff has been away the entire month. He's made stops in Sydney, Australia, Wellington, New Zealand, and, most recently, the Republic of Palau. He's had the opportunity to do a little fishing and send some photos. Thanks Jeff, I attach a few of them. https://en.wikipedia.org/wiki/Palau
Another hop across the Ocean.
The wife and daughter Kathryn flew the Atlantic to help Sam, Captain, USAF get through a rough week with the flu, Masters level paper due, Husband away on a deployment, and four wee ones, seven and under.
Thanks to the winds of Storm Dennis, my two ladies made what is usually a six-hour flight in under five hours. In contrast, those traveling in the opposite direction took as long as eight hours. Their description of what was a harrowing landing in Ireland, sounded like something I'm glad I didn't have to experience. https://en.wikipedia.org/wiki/Storm_Dennis
Both Sam and her USAF Captain husband Zed are graduates of the USAFA. Sam is a Support Services officer, and Zed is a pilot. They are presently stationed at a NATO base in Germany and live a few miles away in the Netherlands.
The ladies survived their child care experience and arrived back home safely a week ago. The girls did get to spend twenty-four hours in Dublin, Ireland during a layover. Even in the heavy rain and wind at the time, they got to walk about the Temple district among the inversely pointing umbrellas. Rumor has it they also indulged in something called a Guinness, whatever that is. https://www.dublintown.ie/temple-bar/
On their return the girls arrived on time in Philadelphia, where I met them. Kathryn retrieved her car from the parking lot and headed south towards home. She would be at work erly on Monday morning. The wife and I headed north towards Staten Island, NY. We had a family Funeral Mass to attend the next morning for a deceased Brother in-law, Rest in Peace Mike. To say the little lady was a bit disoriented from the jet-lag, and sudden obligation, is an understatement. One week later, I think she's back in the necessary time zone. When all is normal, she's back quilting, that she has resumed.
We had just returned from this same flight route on New Year's Eve. Six of us spent the holidays with Sam and Family in Garmish Partenkierchen, Germany.  During that trip we touched feet or tires in Germany, The Netherlands, France, Switzerland, Austria, Belgium, Lichtenstein and England. What goes around, and goes around, and goes around.
Next up for the little lady is a house sitting stent in Connecticut next month. The few, the proud, the Marines, have nothing over this lady and her endurance. Me and the dog will keep the home fires burning.
Sleep well my friends, the elections are coming up, vote early, vote often.
Semper Fi , theRooster
For the past five months, I've worked for a local Nursery. I spend two, sometimes three days a week as a driver and companion to one of the past owners. For the sake of this blog, I'll call him HL. This man is the kindest and most pleasant man to spend a day with. I must also mention, he's quite witty and shares a lot of history with me.
This is not my first rodeo doing this type of thing. Back in the late nineties, I was a driver and aide to the late James Brady and his wife Sarah. Jim was the Press Secretary to President Reagan at the time of the assassination attempt on March 30, 1981. I've written a blog in the past of one little tidbit during that time. Jim was another one of those people with a unique wit.
HL's son is now in charge of the nursery business. In the early twenties HL's father immigrated to America from the Netherlands as a Bulb salesman. He got this whole nursery thing started. The nursery as it's known today started in 1962 with the first propagation in one unheated, deep cold frame.
HL loves traveling about the Delmarva Peninsula, looking at land, specifically farmland, as well as historic homes and buildings. We've also gone to the Pokomoke Discovery Center, where we learned about River Otters and the Harriett Tubman Underground Railroad Historical Site.


Moving On
A past Thursday found us at a long time employee's Retirement and Birthday Party. The Company electrician was hanging up his non-conductive Electrical Plyers for a well-deserved cruise in the Carribean with his wife of 64 years, Judy. Kern was also celebrating his 84'th birthday that day and ending his 48'th year at the nursery.
So this old writer is still staying busy, gathering material, as he moves around the Eastern Shore of Maryland, Delaware, and Virginia. Oh, and did I mention, HL buys lunch each day, there is a story in that process at most every meal. I'm thinking I'll have to start a Gastro info blog from time to time. Have a great Sunday everyone.
theRooster
Our eldest daughter writes an article periodically for one of our local newspapers. Some time ago I wrote an article in my WordPress blog about making your bed as a first thing to accomplish each day. That Blog included the speech by Navy Seal, Admiral William H. McRaven. His speech was delivered as the commencement address to the graduates of The University of Texas at Austin on May 17, 2014. This article tells you about those sheets you should use to make that bed. I hope you enjoy her article. Thanks Kathryn for making this an easy blog.
POPULATION HEALTH
Florence Nightingale's words help the healing environment
By Dr. Kathryn Fiddler
Saturdays at my house meant we had two choices: get up early, find your bike and get out of the house; or stay inside and clean with mom.
As often as we could, my brother, sister and I got up and out early, but a few times we stayed in and helped. We vacuumed, washed the floors, cleaned bathrooms and changed all the sheets. As much as we complained, changing sheets was our favorite part.
As a second-generation nurse, mom was trained to make a clean bed, and she made sure we knew how as well. She always said clean sheets were important to good health.
We would strip the beds and she would wash the sheets, then hang them on the clothesline to dry. Once they were dry, we would carry them to our bedroom.
The memory of carrying crisp fresh sheets to my room still makes me smile and brings me comfort. We pulled the sheets tight, made hospital corners on the ends and smoothed out the blankets.
Today I still relish my fresh sheets. I change them weekly and find great joy in slipping under the sheets in a freshly made bed.
Florence Nightingale, the founder of modern nursing who was born in 1820, also believed in the importance of clean linens. While supporting soldiers in the Crimean War, she taught the nurses the importance of environment to healing.
She educated them on the healing value of fresh air, quiet surroundings, clean food, water and clean sheets. Her work led to reduced illness and death for British soldiers in the
war. Her work also inspired the training, for centuries, of nurses to come.
Today, 200 years later, the World Health Organization and the American Nurses Association has named 2020 the year of the nurse, in honor of the birth of Florence Nightingale, and in recognition of all nurses and midwives throughout the world.
Nurses are the largest group of healthcare professionals in the United States and have been named the most trusted profession for 18 years in a row.
Here on the Delmarva Peninsula, we have nurses in hospitals, in providers' offices, in health departments, community centers, insurance companies, hospice, skilled nursing and rehabilitation centers, home health, veterans' agencies and so many other places.
They have roles as mothers, fathers, caregivers, neighbors, spouses, and they support healthcare delivery and community outreach every day.
The skills, knowledge and roles of the 21st century nurse have all evolved since Florence Nightingale, but her philosophy of caring for the whole person and the value of cleanliness and disease prevention continues to be critical to good health today, and among our core values of nursing.
Dr. Kathryn Fiddler, DNP, MS, RN, NE-BC, is Vice President for Population Health Management at Peninsula Regional Medical Center in Salisbury.
theRooster