Steinbeck had "Travels with Charlie." Mitch Album has his "Tuesdays with Morey," and there was "On the road with Jack Kerouac." I think I've now got the start of "Travels on Delmarva with Harrison." You've already met Harrison last month at Kern's retirement party.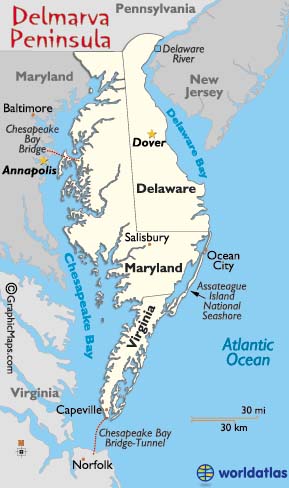 Back in October of last year, my son-in-law asked me if I'd be interested in spending a few days a week with his father traveling about the shore. The shore would be the Eastern Shore, known to many as the Delmarva Peninsula. His father is in his late 80's, and he experienced a stroke several years ago, which has affected his speech, balance, and short term memory to some degree.
Harrison is the husband of Sylvia and the father of Greg, Lisa, and Julie. There are also grandchildren and, most recently, a great-grandchild. His father immigrated to the United States in the early 1920s from the Netherlands after first arriving as a flower bulb salesman. Harison's father ultimately established a nursery business in the Salisbury Maryland area. That business, under Harrison's love and guidance has grown considerably. Under Greg's guidance the nursery continues to propagate.
So, just where is the Delmarva Peninsula, you might ask? The Delmarva Peninsula encompasses parts of Delaware, Maryland, and Virginia. All that land east of the Chesapeake Bay and south of the Chesapeake and Delaware Canal ending at the Virginia, Bay Bridge-Tunnel at Cape Charles, makes up the Delmarva Peninsula. We even have a Regional Spaceport here.
Harrison loves the history of Delmarva. He loves the land, especially the open fields, many of which are planted this time of year with Winter Wheat. These fields remind me of Ireland, so green in their contrast to the trees still in their winter hibernation. Historical homes and buildings are a natural magnet for Harrison. Harrison also loves his midday meals, which we share. Perhaps we shall have some Gastro insight down the road.
My new-found buddy knows the short term memory has taken a trip to somewhere not in the present. There are moments when a delightful chuckle will come up, "oops," he might say, you better ask Sylvia that one when he has a thought, and it fly's off the carrier deck like an F-18. Never is this gentleman frustrated with his position in life. He is a kind, gentle human being who loves his family, life, the land, and the Eastern Shore.
His devoted wife drives him to the local senior center five days a week for some Physical Therapy, and comradery, with those on the same station in life as he. We are starting our fourth month together, and I continue to learn from this man with so much knowledge of what I like to say, this, that, and other things.
May this week bring me more adventure as I travel the Eastern Shore with Harrison. With the blessing of those close to him, I look forward to sharing some of them with you.
Thank you Sylvia, Lisa, Greg, and Julie for sharing someone special with me.
Super Tuesday's this week, don't forget, vote early, vote often.