Home » Posts tagged 'Delmarva'
Tag Archives:
Delmarva
Steinbeck had "Travels with Charlie." Mitch Album has his "Tuesdays with Morey," and there was "On the road with Jack Kerouac." I think I've now got the start of "Travels on Delmarva with Harrison." You've already met Harrison last month at Kern's retirement party.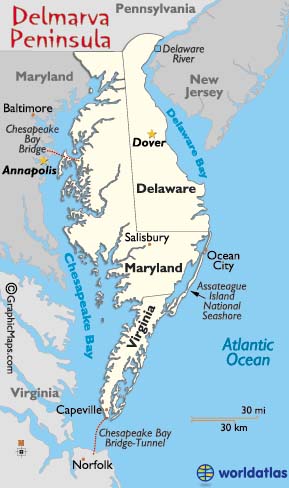 Back in October of last year, my son-in-law asked me if I'd be interested in spending a few days a week with his father traveling about the shore. The shore would be the Eastern Shore, known to many as the Delmarva Peninsula. His father is in his late 80's, and he experienced a stroke several years ago, which has affected his speech, balance, and short term memory to some degree.
Harrison is the husband of Sylvia and the father of Greg, Lisa, and Julie. There are also grandchildren and, most recently, a great-grandchild. His father immigrated to the United States in the early 1920s from the Netherlands after first arriving as a flower bulb salesman. Harison's father ultimately established a nursery business in the Salisbury Maryland area. That business, under Harrison's love and guidance has grown considerably. Under Greg's guidance the nursery continues to propagate.
So, just where is the Delmarva Peninsula, you might ask? The Delmarva Peninsula encompasses parts of Delaware, Maryland, and Virginia. All that land east of the Chesapeake Bay and south of the Chesapeake and Delaware Canal ending at the Virginia, Bay Bridge-Tunnel at Cape Charles, makes up the Delmarva Peninsula. We even have a Regional Spaceport here.
Harrison loves the history of Delmarva. He loves the land, especially the open fields, many of which are planted this time of year with Winter Wheat. These fields remind me of Ireland, so green in their contrast to the trees still in their winter hibernation. Historical homes and buildings are a natural magnet for Harrison. Harrison also loves his midday meals, which we share. Perhaps we shall have some Gastro insight down the road.
My new-found buddy knows the short term memory has taken a trip to somewhere not in the present. There are moments when a delightful chuckle will come up, "oops," he might say, you better ask Sylvia that one when he has a thought, and it fly's off the carrier deck like an F-18. Never is this gentleman frustrated with his position in life. He is a kind, gentle human being who loves his family, life, the land, and the Eastern Shore.
His devoted wife drives him to the local senior center five days a week for some Physical Therapy, and comradery, with those on the same station in life as he. We are starting our fourth month together, and I continue to learn from this man with so much knowledge of what I like to say, this, that, and other things.
May this week bring me more adventure as I travel the Eastern Shore with Harrison. With the blessing of those close to him, I look forward to sharing some of them with you.
Thank you Sylvia, Lisa, Greg, and Julie for sharing someone special with me.
Super Tuesday's this week, don't forget, vote early, vote often.
Throughout my life, I've lived in quite a few places. South Jersey was my home for the first eighteen years. In case you don't know, everyone in New Jersey lives near an Exit, that Exit is off either the NJ Turnpike or the Garden State Parkway. Some folks way up north will quote an exit off I-80 which runs E to W from the George Washington Bridge to the Delaware Water Gap bridge at the Pennsylvania line.
So, after that bit of geography, the better part of my early years was spent close to exits #3 & #5 just off the NJ Tpk. And Exit # 4A off the Garden State Pkwy. Thanks to the United States Marine Corps, while stationed at the Earle Ammunition Depot in Colts Neck, NJ, I also lived a short distance off Exit #8 of NJ Tpk.
After graduation from high school, the Marine Corps moved me about to assignments in South Carolina, North Carolina, Washington, DC, New Jersey, Japan, and California.
I married my wife of 54 years while in the Marine Corps and upon discharge we resided in northern Maryland for a year before moving to Connecticut and ultimately a career with the Ct State Police, retiring in 1988.
Upon retirement, the little woman wanted to relocate to the northern Maine coast. As for me, I was looking to travel south to the Gulf Coast of Florida. We wound up compromising and found the Delmarva Peninsula and the Eastern Shore of Maryland.
We were Yankees no longer, we now live below the Mason – Dixon line and are Southerners. There is a lot on conjecture as to the exact placement of those markers. Some folks locally say Mardella Springs has an original marker, others will tell you Delmar is the line of demarcation. In either case, we're about 20 some miles south of that infamous line.
So, for the past 31 years, we've lived as Southerners. During that time, we've met some characters along the way. For this story, I'm calling the featured character Charlie.
Charlie lived in on a small wooded plot in a small trailer just off the main road that ran from Allen to Trinity, MD. This was not a terribly long stretch of road, only 3 1/2 miles to the old Trinity Church cemetery near our present home. Every Christmas and Easter someone comes by and places plastic flowers on two or three of the grave markers.
It's been told that Charlie, back in the day, as they say down here, once was a store owner. Some kind of malady occurred in his life that caused him to give up the store and live a life of solitude., thus the trailer in the woods.
Charlie could often be found in the local country store sitting on an old wooden milk carton under a big fan. Charlie would be talking about the past with the store's proprietor for the better part of a morning or afternoon, especially in the summer. You would always know when Charlie was there, his dog Brownie would be lying outside awaiting his return. Inside the store, lying about somewhere, was the resident Collie, Chief. He was the companion of the store owner and resident historian, who we shall call Butch.
When we first moved to Allen, since named Eden by the Federal Government and Postal people, there was no trash pickup or mail delivery. The post office was part of that general store and the Post Master or Mistress as in this case just happened to be Butch's mother and he most often referred to as "Mother." She went by a slew of names depending on who she was referring to her at the time. I always called her "Yes, Ma'am."
Often while depositing trash at the "Transfer Station" one might run into Charlie. Growing up in New Jersey, we called them "Dumps" and would always make a "Dump Run" when making a deposit. I guess down here I just made a transfer, stuff to be used by someone else, I guess.
At times Charlie could be found conversing with the manager of the Dump, his name was Slim. Slim was there from opening to closing, watching over the three dumpsters, two for household trash, one for metal. There was no recycling back in those days, just household trash and NO construction materials were allowed. You were in big trouble should you transfer building Materials. Those had to go to the big Dump in Salisbury where you were weighed and had to pay a fee.
Often times, Charlie's dog Brownie could be found in one of the dumpsters, looking for some munchies he was. You always had to examine before making a drop into the bin. There was a rare occasion when Charlie himself could be found in a dumpster. More than once this writer had to hold up the throw of a bag into the bin for fear of injuring a dog, stray cat or Charlie himself.
I would spend a lot of time chatting with Slim and Charlie from time to time. Slim was always up to date on what was biting on the hook in the local waters. With no Barber Shop in town, the Dump would often be a place to keep up with the local goings on, along with the Post Office and General Store of course. That old store made the best sandwiches I've ever tasted.
At one point in the past, old Charlie showed up at the Dump with a second dog. This dog was also brown. I asked Charlie what the dog's name was, Charlie responded, "Brownie II." How simple and appropriate I thought.
As time passed, Charlie appeared one day at the Dump, and the elder Brownie was not with him. I asked where the old dog was, and Charlie responded, "dead." I wondered what happened? I asked Charlie and he replied, "Metalosis." Not familiar with the term I asked, what is Metalosis? Charlie kinda chuckled and said, "The metal in the bumper of the car that struck him, what done it.
Life, South of the Mason Dixon Line, with the Rooster.
Should you not be familiar with the with the area, Delmarva, where the Rooster has his coop, is a peninsula. The peninsula is made up of parts of three states, Maryland, Delaware and Virginia.
During the BIG BLOW (Storm Quinn) last week, March 2nd to be exact,  we were stuck here on the peninsula for a brief time. The winds were far in excess of what was safe for vehicles to cross the bridges off the peninsula. Pictured above is the Chesapeake Bay Bridge from Kent Island to Annapolis. Pictured below is the Chesapeake Bay Bridge Tunnel that connects the southern tip of Delmarva to Virginia Beach.
Other bridges off the Peninsula are the Summitt Bridge, Chesapeake & Delaware Canal Bridge and the Chesapeake City Bridge. These bridges were closed also.
Salisbury, MD is the closest reporting station to our Coop. Here is the weather history for Salisbury that day last week : https://www.wunderground.com/history/airport/KSBY/2018/3/2/DailyHistory.html?req_city=Salisbury&req_state=MD&req_statename=Maryland&reqdb.zip=21801&reqdb.magic=1&reqdb.wmo=99999
Today
Outside the son's house, Tolland, CT.
So what's going on today, March 7, 2018?  Storm Riley is this one's name. I just happen to be in the Nutmeg State of Connecticut hanging with the son's family for a few days. And what does the National Weather Service have to say?
URGENT – WINTER WEATHER MESSAGE
National Weather Service Taunton MA
415 PM EST Wed Mar 7 2018
CTZ002>004-MAZ010-011-RIZ001-080515-
/O.CON.KBOX.WS.W.0006.000000T0000Z-180308T1200Z/
Hartford CT-Tolland CT-Windham CT-Eastern Hampshire MA-
Eastern Hampden MA-Northwest Providence RI-
Including the cities of Hartford, Windsor Locks, Union, Vernon,
Putnam, Willimantic, Amherst, Northampton, Springfield, Foster,
and Smithfield
415 PM EST Wed Mar 7 2018
…WINTER STORM WARNING REMAINS IN EFFECT UNTIL 7 AM EST
THURSDAY…
* WHAT…Heavy snow. Total snow accumulations of 8 to 15 inches,
heaviest in the higher terrain in northern Connecticut and
western Massachusetts.
* WHERE…Portions of northern Connecticut, western
Massachusetts and northern Rhode Island.
* WHEN…Until 7 AM EST Thursday.
* ADDITIONAL DETAILS…Travel will be very difficult if not
impossible. Tree branches and wires could fall. Snowfall rates
of 1 to 3 inches during the height of the storm with
thundersnow possible.
PRECAUTIONARY/PREPAREDNESS ACTIONS…
A Winter Storm Warning for snow means severe winter weather
conditions will make travel very hazardous or impossible. If you
must travel, keep an extra flashlight, food and water in your
vehicle in case of an emergency.
A Red Pot Recipe
So what does the Mrs. do on that miserable day last week, she makes, without a doubt, the finest Beef Stew of our fifty-two years of marriage in her big red pot.
Ingredients
Vegetable oil, for searing
2 1/2 pounds beef chuck, cut into 2-inch cubes after searing whole.
Kosher salt and freshly ground black pepper
2 medium onions, cut into 6ths
1 1/4 pounds medium potatoes, quartered
4 medium carrots, cut into 2-inch pieces
4 medium Parsnips, cut into 2-inch pieces
1 can, Cream of Celery Soup
1 can French Onion Soup
1 can of Red Wine (Cab)
Directions
Pre-heat oven to 300 dgrees. Add vegetable oil to bottom of pot on high heat on stove burner, salt and pepper meat to taste, insert roast into pot when oil is hot, sear for one to two minutes on each side. Remove beef, cut into 2 inch squares, return to pot. Add all other ingredients, stir and place in oven for four hours, remove and serve.
Serves 4-6 Enjoy