Home » Posts tagged 'Fox'
Tag Archives:
Fox
This bit of news from France was posted on the "BBC" web site and forwarded to me by daughter Kathryn. I share it with you. Apparently, the young Fox, are not sly.
Chickens 'gang up' to kill intruder fox on a French farm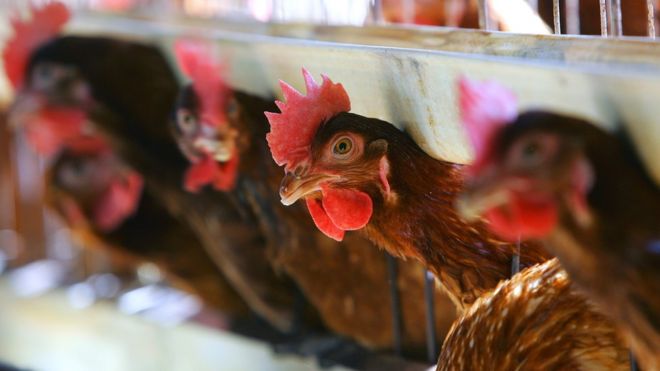 Chickens in a school farm in north-western France are believed to have grouped and killed a juvenile fox.
The unusual incident in Brittany took place after the fox entered the coop with 3,000 hens through an automatic hatch door which closed immediately.
"There was a herd instinct, and they attacked him with their beaks," said Pascal Daniel, head of farming at the agricultural school Gros-Chêne.
The body of the small fox was found the following day in the corner of the coop.
"It had blows to its neck, blows from beaks," Mr. Daniel told AFP news agency.
The farm is home to up to 6,000 free-range chickens who are kept in a five-acre site.
The coop is kept open during the day, and most of the hens spend the daytime outside, AFP adds.
You may also like:

Despite what you think, chickens are not stupid.

When the automatic door closed, the fox – thought to be around five or six months old – became trapped inside.
"A whole mass of hens can arrive together, and the fox may have panicked in the face of such a big number," Mr. Daniel told the regional newspaper Ouest France (in French).
"They can be quite tenacious when they are in a pack."
Captains Two
Rather than go with Sam's "A Day In My Life," I'm just plagiarizing, with her permission of course, and shall call it "Captains Two," plus the four Greats. That will be Mia, Ana, Dax and Zoe. Enjoy the kid's travels while in Europe for the next few years.
The Captain says:
Upon getting home from my work trip I learned it was time to pick up one of our two tables we had ordered. The table we would be picking up was in Northern Netherlands, or Holland, and was our new coffee table.
Kinderdijk was recommended to us by the man who built our table and we are so glad he did. The weather was perfect and the crowds were low. Dax and Zoe loved taking a vehicle ferry and then riding a boat to the windmills. One of the windmills we toured housed a single family of 14!
Next was another castle. Though the baroness was Jewish it survived WWII thanks to the wits of the staff left behind. They hid anything that could be taken off the walls in secret passageways. If they received news of German troops coming close they would begin to clean and manicure the grounds. When asked what they were doing by German troops, the staff would respond getting the estate ready for your leadership. Thinking their leadership was about to arrive, they did no harm to the property.
And finally it wouldn't be a Davies Day Trip if we didn't go out of our way to see Amsterdam and the dyke system that has reclaimed the lowlands of the Netherlands.
The longer we're here the more we want to travel. This should mean more actual travel leading to more blog posts. Enjoy! -S

Where in the World?
Watching us walk up the street early in the morning this past Friday was the neighborhoods newest "Trash Bandit." Now this young cub can only be a few weeks old. There have been two of them on the road most mornings eating road kills, namely frogs, bugs and the occasional tossed fast food wrappers that seem to appear at various times. Really people, take it home and put it in the trash.
So the us is our trusty K-9 Ben, formally known as Benjamin Franklin Fiddler, our BFF. The acronym BFF was popularized as a quick way for friends to sign off and express their positive feelings for one another while instant-messaging (IM-ing) on the computer or sending a text message on cell phones, just in case you didn't know.
Each morning after breakfast Ben and I go on a road trip, usually to an off road site so Ben can have some exercise, not chasing Mr. Racoon however. There are many of these sites within a mile or two of our home, on some days we both get some exercise. Ben usually gets his AM constitutional in at this time also. If you could observe Ben in the wild you would be taken back to the day's of Tigger, as Ben hops about on all fours propelling himself in the air. His favorite route is a configuration of a figure 8.
On a completely different note,
Rain. The east coast has been getting a lot of it of late. As I write this, Lynchburg, VA is holding it's breath a dam doesn't break. Major League baseball has games backing up due to cancellation. Our fifty acre corn fence just grows higher and higher. It surrounds our home and limits our vision in three directions. Most evenings just after sunset the sly fox, a very large one I might add. emerges from the corn adjacent to our driveway and strolls across the street. I'm sure neighbor Jim putting out the cat food, the sound of which is likened to days of old when coal went down the shoot to feed the furnace, lures the fox in. Our flock of backyard chickens remains safe so far.
Bob Marley, may he rest in peace, had some great quotes in his short life, he died at the age of thirty six. His music lives on, even today. Here is just one of his quotes. Very appropriate for America's East Coast.
If you've never heard one of his songs, hear's one for you. https://www.youtube.com/watch?v=CHekNnySAfM
We've had Thunder Storms earlier, it cooled off a bit, now the sun is out and the Sauna is back. September, football, trees turning colors and crisps nights lie just ahead. Bring it on.