Home » Posts tagged 'Reading'
Tag Archives:
Reading

My favorite children's stories?
Hans Brinker and his silver skates was one of the first books I ever remember having. It was a historical novel by Mary Mapes Dodge. Now I consider myself old, in 2023 I shall turn 80 years old. This book, it's really old, it was written in 1865. I had a bedside table in my room in the apartment my mother and I lived in. This apartment was the 2'nd floor of my great grandmother and great grandfather, Lena and William Peachmann. We lived there until until 1950. That book was always on the shelf of the bedside table.
So, I was reading at age seven. And yes, I'm still reading today. Several eye surgeries of late have put a bit of a crimp in this enjoyable endeavor.
Two memories of my great grandfather, who I called Grandpop, by the way, were playing checkers and him wittling. I especially remember him whittling a canoe and shavings always on the floor around his chair. And my goodness, I loved playing checkers anytime. Great grandmother Lena was my surrogate mother during those first seven years. She kept me well fed. She was grandmom, and spoiled me with love.
One other book, "Treasure Island by Robert Louis Stevenson" was always next to the bed. Treasure Island is one book I've read more than once. "For sheer storytelling delight and pure adventure, Treasure Island has never been surpassed. From the moment young Jim Hawkins first encounters the sinister Blind Pew at the Admiral Benbow Inn until the climactic battle for treasure on a tropic isle, the novel creates scenes and characters that have fired the imaginations of generations of readers". Thanks to HTTPS://WWW.GOODREADS.COM/BOOK/SHOW/295.TREASURE_ISLAND for this bit of information.
Here's a book review on Hans Brinker from – HTTPS://WWW.PLUGGEDIN.COM/BOOK-REVIEWS/HANS-BRINKER-OR-SILVER-SKATES/.
Hans Brinker, age 15, and his sister, Gretel, age 12, live in Holland in the mid-1800s. Ten years before this tale unfolds, their father, Raff, suffered an injury that left him senseless and incapacitated. The children and their mother have lived in poverty ever since. They know Raff buried a large sum of money prior to his fall, but he's unable to tell them where it's hidden. Raff also left a fine watch with Dame Brinker just before his accident, making her promise to keep it safe. She knows nothing of its mysterious origins and has often considered selling it to feed the family.Hollanders get around in the winter by skating on the frozen canals. Hans and Gretel can't afford real skates, so they strap blocks of wood to their feet. Though many wealthier children look down on the Brinkers, a few, including Hilda van Gleck, Peter van Holp and Annie Bouman, show great kindness and generosity. Hilda and Peter buy Hans' homemade necklaces so he and Gretel can afford real skates without feeling they've taken charity. These children provide other necessities for the Brinkers as well.The children of the city are overcome with excitement when they learn of an upcoming skating contest. The fastest girl and the fastest boy will each win a pair of silver skates.As Hans goes to town to purchase his skates, he spies the renowned surgeon Dr. Boekman on the street. Hans offers his skate money to the man, if the doctor will examine Raff. Touched by Hans' story, the doctor refuses the money and promises to come see Raff when he returns from a trip.Shortly thereafter, Raff's health deteriorates. Hans and Peter go in search of the doctor, but without success. When Dr. Boekman finally returns, he performs a risky surgery to relieve pressure on Raff's brain. Raff experiences healing that is miraculous. Though his memory is foggy, he is essentially the same person he was before his accident. He helps the family find the lost money, and the Brinkers are finally able to support themselves in a reasonable manner.Raff also begins to remember the story behind the watch he'd left with Dame Brinker. It was given to him by a man named Thomas Higgs who was fleeing the country. Thomas believed he'd inadvertently poisoned someone. He asked Raff to contact his father and give him the watch. Thomas told Raff to have his father contact him if it was ever safe for him to return to Holland. On one of Dr. Boekman's visits, the Brinkers discover Thomas Higgs is the doctor's son. Dr. Boekman explains that he had prevented the poisoned man's death, so Thomas was not in any legal trouble. He's thrilled to learn his son may still be alive, and Hans promises to help the doctor find Thomas. Through another coincidence, they trace Thomas to England. He returns home immediately.Hans and Gretel, along with all of the children of the town, join the race for the silver skates. Gretel wins in the girls' category. Hans is one of the finalists in the boys' category. When Peter's skate strap breaks right before the final run, Hans graciously gives his strap to his friend. Peter wins the race.Dr. Boekman later returns to the Brinkers' house to introduce his son. Thomas will be starting a business in town and offers Raff a job as his right-hand man. When Dr. Boekman learns of Hans' interest in surgery, he invites the boy to become his apprentice.In a sub-plot, Peter leads a group of boys on a multi-day skating adventure to various Holland cities. The boys (including an English boy named Ben) see numerous historical sites and share stories about famous Dutchmen over the years. The narrator uses this trip to show readers a detailed geography and history of Holland. One legend made famous by this novel is the tale of the Dutch boy who sticks his finger in a dike to save his town from flooding. Peter and the boys say this tale represents the spirit of Holland. Any leak, be it in government, public safety or honor, is quickly filled by a million fingers. The boys lose their money, sail on an ice boat and catch a thief before visiting Peter's sister's mansion and returning home for the big race.
My take away from this was that the children of the Neherlands drank beer and wine in place of contaminated water. I thought that was neat.
My inspiration for this was gained after going back to my early blogging days. I was https://thefidd.blogspot.com I can not believe I first started out in February 2008. On occasion I'll copy and paste a blog from WordPress to that venue also. Should anyone be interested the old blogs are all still there. Two more upcoming blogs are on the front burner. After this will be, The return of our four greats to the Netherlands & G & Pappy's European adventure. Following that will be, "A Wedding in our Living Room." So, if at all interested, stay tuned.
My First Blog – 02/11/08 @ 1545 hrs.
Blog, kind of sounds like a cold, or a zit or some kind of an affliction. My first day with a blog, now what do I do with it? Well to start off I'll let the world know how I start my day on the Internet. My start up page is http//refdesk.com Having spent twenty years in Connecticut I next go to http://www.courant.com/ to check on the local news and how the UCONN Huskies are doing in any given season. I'm a forty year Huskie fan. http://www.uconnhuskies.com/ Next up, but sometimes #1 is the weather. While in the Marine Corps, way back when, I was in Weather as an occupation with Rawinsonde as a sub specialty. http://usmilitary.about.com/library/milinfo/marineenjobs/bl68.htm I use a verity of weather related sites www.nws.noaa.gov/ #1, my other favorites are www.accuweather.com and www.weatherunderground.com During the Hurricane season I live by the National Hurricane Center. www.nhc.noaa.gov/ I have friends and family in CT, FL, CA, and affections to Key West, FL, Pagosa Springs, CO, Flagstaff, AZ and Ireland and Germany. So, I usually check on the weather in those places.Next it's off to the Washington Post and Washington Times to get two diametric views on the news. www.washingtonpost.comwww.washingtontimes.com After the two DC papers I go to Google News, which I have preference settings in and glance over that. Next is onto my mail servers. From then on I usually have a Memo Pad with notes on things to look up and it's off I go. This all starts shortly after I get up, usually around 0500. Once downstairs it's a hot cup of tea to start the day. Here, I've given the world the start of my day for the start of a BLOG. I shall end this bantering with saying Cead Mile Failte – OMG
This weeks Blog
We recently had a visit from son Matthew & family who reside in Connecticut. Two of his and wife Beth's four children made the trip with them. The boys, David in New York, Brooklyn to be exact and Kevin, deployed to Kosovo for a year with the CT National Guard, 1/169th Inf.. did not make the trip.
Jill, a soon to be Junior at Siena University and Rebecca a soon to be Junior in High School did make the trip. It was great getting to spend some time with them.
The crew of four spent three days with us, mostly in Kathy and Jeffs pool while they were returning greats to Europe. When they departed here they headed to Ocean City, MD for three days in a condo and beach time on the sand. We joined them on their last day for breakfast and to say good by. Prior to leaving OC we stopped at https://www.rosenfeldsjewishdeli.com and brought our next meal home with us.
There is no doubt the girls will make their mark in our society in years to come.
I could not help but reflect on days gone by and the many trips north to visit over the past thirty-three years. When we were there, and the children were young, I read one of the many children's books in their libraries. I would like to think that in some small way I had a hand in their using their imaginations while growing up. I am proud of their parents and especially proud of the grandchildren.
Here's some info about David from the Champlain College Alumni magazine.
What a great trip we had to Burlington, VT, several years ago for David's graduation.
Hi, My name is David and I make noise and push pixles for fun! Professionally I am a Sound Designer/ Composer, and an Interaction Designer/ Art Director. My goal has always been to craft meaningful sonic and visual experiences. When you boil it all down I just want to create awesome stuff!
I am proficient in Adobe's suite of tools including Photoshop, Illustrator, Premiere, Audition, and After Effects. Along with that, I am also well versed in Cinema 4D, Processing, and have a background working in HTML 5, CSS and Javascript. I have professional experience with multiple DAWs including Apple Logic Pro, Pro Tools, and Ableton Live as a sound designer for Interactive media and film.
For fun I enjoy hacking stuff to do things it's not supposed to do, writing music, reading and living an active lifestyle.
Check out my Vimeo Page for some of the cool stuff I've worked on! Lets create something awesome together!
EDUCATION

Greater Hartford Academy of the Arts
Champlain College
Some info on Kevin
Kevin graduated from the U of Connecticut in May of this year completing a major in Economics and a minor in Geographic Information Science in three years. He joined the CT National Guard after HS to help finance his college expenses. The wife and I made it to FT Sill, OK, for Kevin's graduation from Army Boot Camp. Son Matthew and I made it to FT. Huachuca, AZ, for his graduation from Tech school there.
Kosovo https://shape.nato.int/ongoingoperations/nato-mission-in-kosovo-kfor-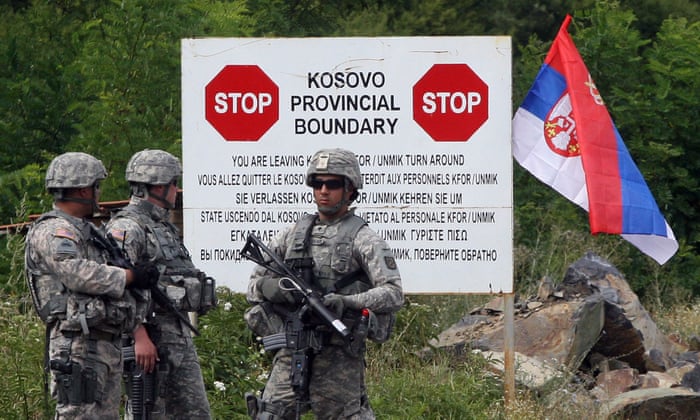 His Unit
Ft Huachuca https://home.army.mil/huachuca/index.php

I used the below info in a Blog way back in 2013, I must share it once again, it is well worth a read.
If you have children, or ever plan on having them, this is a must read.
Neil Gaiman: Why our future depends on libraries, reading and daydreaming
A lecture explaining why using our imaginations, and providing for others to use theirs, is an obligation for all citizens.
Tue 15 Oct 2013 14.51 BST
It's important for people to tell you what side they are on and why, and whether they might be biased. A declaration of members' interests, of a sort. So, I am going to be talking to you about reading. I'm going to tell you that libraries are important. I'm going to suggest that reading fiction, that reading for pleasure, is one of the most important things one can do. I'm going to make an impassioned plea for people to understand what libraries and librarians are and to preserve both of these things.
And I am biased, obviously and enormously: I'm an author, often an author of fiction. I write for children and for adults. For about 30 years I have been earning my living through my words, mostly by making things up and writing them down. It is obviously in my interest for people to read, for them to read fiction, for libraries and librarians to exist and help foster a love of reading and places in which reading can occur.
So I'm biased as a writer. But I am much, much more biased as a reader. And I am even more biased as a British citizen.
And I'm here giving this talk tonight, under the auspices of the Reading Agency: a charity whose mission is to give everyone an equal chance in life by helping people become confident and enthusiastic readers. Which supports literacy programs, and libraries and individuals and nakedly and wantonly encourages the act of reading. Because, they tell us, everything changes when we read.
And it's that change, and that act of reading that I'm here to talk about tonight. I want to talk about what reading does. What it's good for.
( To read the rest of the story, please go here 🙂
Once more i ask that you please check on the elderly. If you haven't had your Covid shot, please think of getting one. Please don't forget support for our first responders.
Semper Fi theRooster