Home » Posts tagged 'Palau'
Tag Archives:
Palau
Wow is all I can say, these times they are a changing. "Hey, don't get too close." Those words led me to think, it might be a good time to live in a cloistered society, or perhaps on an island in the middle of the Ocean. Son-in-law Jeff had that island experience during the month of February, while working in Koror, in The Republic of Palau at the American Embassy. While checking on the Covid-19 whereabouts yesterday, I learned there was not one case of the disease in Palau.
For the here and now Grannie and the Rooster are practicing self isolation, washing our hands and not touching our face. Daughter Sarah has been getting our necessaries while she's out shopping. Today we received facial tissue, paper towels, green beans, and diced potatoes. A bottle of Cab and Chardonnay from the wine isle capped off the shopping list. Perhaps a toast at dinner time and thank you Lord that we are Corona free.
We visited a short time on the porch with Sarah, well separated mind you, but not for long. A temperature of 43f and blustery winds drove our visitor from the other side of the river away rather quickly. Thank you our middle child.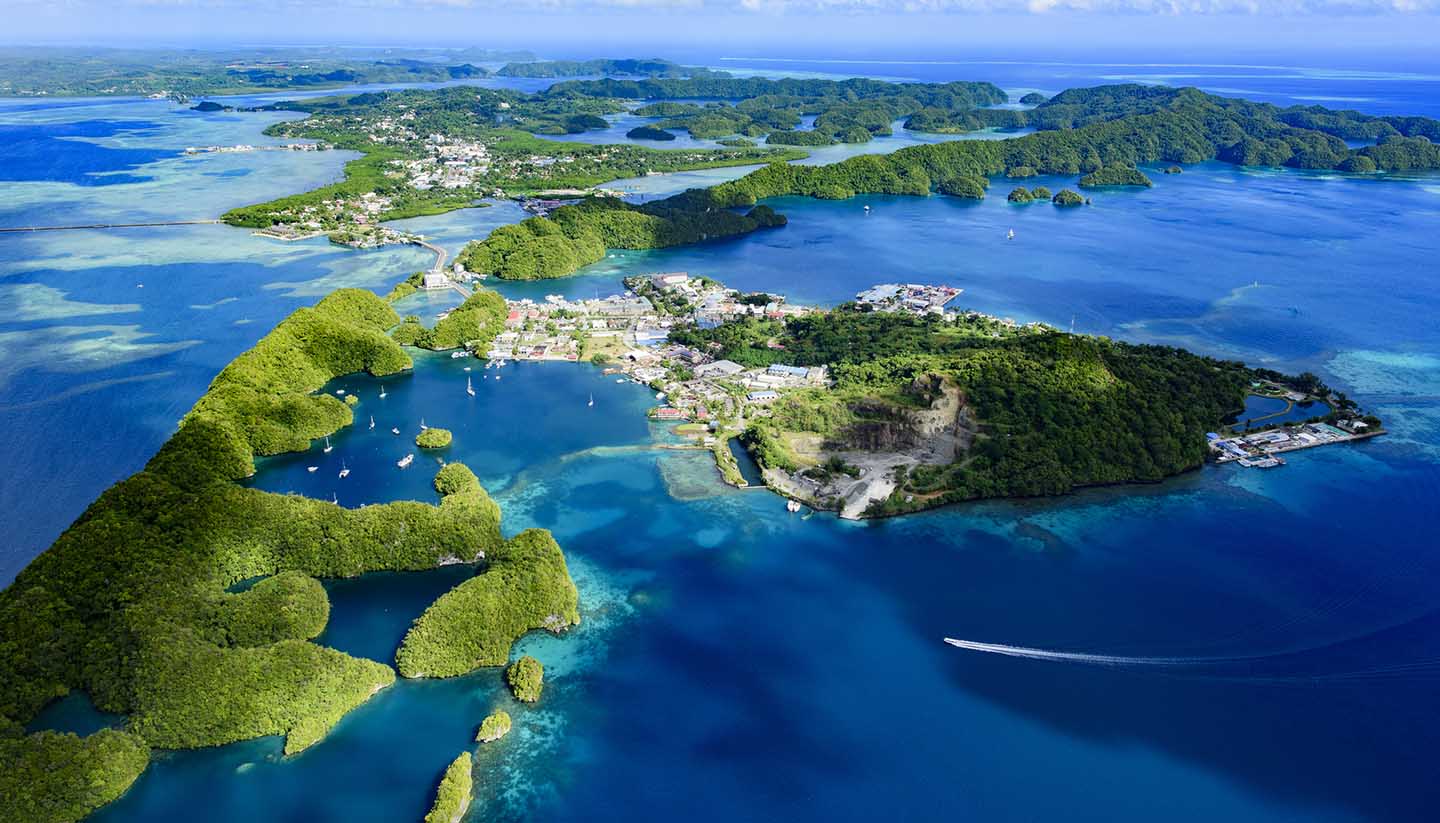 Should you be interested to learn a little about this island nation of Palau, check out the Embassy fact sheet @: https://pw.usembassy.gov/our-relationship/policy-history/
Tristan da Cunha
Courtesy of Wiki, should you want real isolation try, Tristan da Cunha (/ˌtrɪstən də ˈkuːn(j)ə/), colloquially Tristan, is a remote group of volcanic islands in the south Atlantic Ocean which includes Gough Island. It is the most remote inhabited archipelago in the world, lying approximately 1,511 miles (2,432 km) off the coast of Cape Town in South Africa, 1,343 miles (2,161 km) from Saint Helena and 2,166 miles (3,486 km) off the coast of the Falkland Islands.[5][6]
The territory consists of the inhabited island, Tristan da Cunha, which has a diameter of roughly 11 kilometres (6.8 mi) and an area of 98 square kilometres (38 sq mi), and the wildlife reserves of Gough Island and Inaccessible Island and the smaller, uninhabited Nightingale Islands. As of October 2018, the main island has 250 permanent inhabitants who all carry British Overseas Territories citizenship.[3] The other islands are uninhabited, except for the personnel of a weather station on Gough Island.
Tristan da Cunha is a British Overseas Territory with its own constitution.[7] There is no airstrip of any kind on the main island, meaning that the only way of travelling in and out of Tristan is by boat, a six-day trip from South Africa.
Cloistered Men and Women of the Catholic Faith.
Enclosed religious orders of the Christian churches have solemn vows with a strict separation from the affairs of the external world. The term cloistered is synonymous with enclosed. In the Catholic Church enclosure is regulated by the code of canon law, either the Latin code or the Oriental code, and also by subsidiary legislation.[1][2] It is practised with a variety of customs according to the nature and charism of the community in question. (Wiki)
Have you ever thought of the cloistered world of a nun. Could this be another safe venue in our world? https://www.tipsonlifeandlove.com/self-help/going-inside-the-secret-world-of-cloistered-nuns
Life in the Netherlands
Sam, Zed, Mia, Ana, Dax, and Zoe
32 days 🎶into the unknown🎶
Positives – Zoe is potty trained, Dax has learned to ride a bike without training wheels, Zoe has learned how to ride a Strider bike.
Activities – Leprechaun trap, snow globes, virtual playdates, calming bottles, aquariums, bike rides, and invented numerous games on the trampoline (this one has been all Zed, and the kids love it)
Challenges – Still don't know what I'm doing for dinner every night, have given barely any thought to my Master's assignments, learning how my kids learn best, coordinating Zed and my work schedules, making sure we don't miss school assignments for Mia and Ana, entertaining 4 very active kids who require social interaction from people their age
Grandson David in NY, NY
Stuck in a 4th floor walk-up in Lower Manhattan. The Rooster shall expond on this isolated lad in the next post. Hang in there David, down in lower Manhattan.
Connecticut Entertainment at son Matt's house.
For some reason or an other when I saw the flower, I reflected back to 1967 and a song from that era sung by Scott McKenzie: https://youtu.be/bch1_Ep5M1s
How many of you readers were around with this 24 year old Marine at that time? "Welcome Home," to all who know the meaning!
Scott left this world back in 2012 at the age of 73.
Where in the world is Jeff Berthiaume.
We are hoping he may be on his way home. With the rapidly growing Corona virus and Pandemic fears, we wonder, will he arrive home on the date scheduled. Jeff has been away the entire month. He's made stops in Sydney, Australia, Wellington, New Zealand, and, most recently, the Republic of Palau. He's had the opportunity to do a little fishing and send some photos. Thanks Jeff, I attach a few of them. https://en.wikipedia.org/wiki/Palau
Another hop across the Ocean.
The wife and daughter Kathryn flew the Atlantic to help Sam, Captain, USAF get through a rough week with the flu, Masters level paper due, Husband away on a deployment, and four wee ones, seven and under.
Thanks to the winds of Storm Dennis, my two ladies made what is usually a six-hour flight in under five hours. In contrast, those traveling in the opposite direction took as long as eight hours. Their description of what was a harrowing landing in Ireland, sounded like something I'm glad I didn't have to experience. https://en.wikipedia.org/wiki/Storm_Dennis
Both Sam and her USAF Captain husband Zed are graduates of the USAFA. Sam is a Support Services officer, and Zed is a pilot. They are presently stationed at a NATO base in Germany and live a few miles away in the Netherlands.
The ladies survived their child care experience and arrived back home safely a week ago. The girls did get to spend twenty-four hours in Dublin, Ireland during a layover. Even in the heavy rain and wind at the time, they got to walk about the Temple district among the inversely pointing umbrellas. Rumor has it they also indulged in something called a Guinness, whatever that is. https://www.dublintown.ie/temple-bar/
On their return the girls arrived on time in Philadelphia, where I met them. Kathryn retrieved her car from the parking lot and headed south towards home. She would be at work erly on Monday morning. The wife and I headed north towards Staten Island, NY. We had a family Funeral Mass to attend the next morning for a deceased Brother in-law, Rest in Peace Mike. To say the little lady was a bit disoriented from the jet-lag, and sudden obligation, is an understatement. One week later, I think she's back in the necessary time zone. When all is normal, she's back quilting, that she has resumed.
We had just returned from this same flight route on New Year's Eve. Six of us spent the holidays with Sam and Family in Garmish Partenkierchen, Germany.  During that trip we touched feet or tires in Germany, The Netherlands, France, Switzerland, Austria, Belgium, Lichtenstein and England. What goes around, and goes around, and goes around.
Next up for the little lady is a house sitting stent in Connecticut next month. The few, the proud, the Marines, have nothing over this lady and her endurance. Me and the dog will keep the home fires burning.
Sleep well my friends, the elections are coming up, vote early, vote often.
Semper Fi , theRooster